Anonymous activists target Tunisian government sites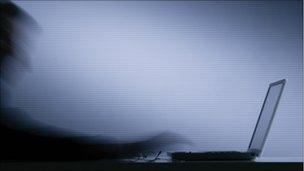 Key websites of the Tunisian government have been taken offline by a group that recently attacked sites and services perceived to be anti-Wikileaks.
Sites belonging to the Ministry of Industry and the Tunisian Stock Exchange were amongst seven targeted by the Anonymous group since Monday.
Other sites have been defaced for what the group calls "an outrageous level of censorship" in the country.
The group also recently targeted the websites of the Zimbabwean government.
Those attacks were reportedly in retaliation after the president's wife Grace Mugabe sued a Zimbabwean newspaper for $15m (£9.6m) over its reporting of a cable released by Wikileaks that claimed she had made "tremendous profits" from the country's diamond mines.
The attacks, which started in the run up to the New Year, hit the government's online portal and the official site of Robert Mugabe's Zanu-PF party.
"We are targeting Mugabe and his regime in the Zanu-PF who have outlawed the free press and threaten to sue anyone publishing Wikileaks," the group said at the time.
In an open letter published online, Anonymous said that it had launched distributed denial of service (DDoS) attacks to highlight a spate of recent riots that have taken place over youth unemployment in the country as well as net and press censorship.
The country has reportedly stepped up its control of the web in light of the recent violence.
The retaliatory DDoS attacks used to knock the government's websites offline do so by bombarding them with so much data that they can no longer respond to legitimate page requests.
Security researcher Graham Cluley said the group, which encourages members to download a piece of software to launch the attacks, had selected its targets in discussions in an Internet Relay Chat (IRC) forum on Sunday.
But he warned people against being tempted to take part.
"Anyone considering signing-up to join in the attacks on the websites of various governments would be wise to remember that participating in a DDoS attack is against the law," he said.
As well as the DDoS attacks, Anonymous said it had taken other measures.
"We have accessed one of their websites and defaced it by placing our Open Letter to the Government of Tunisia on the main page
"In addition, we have taken steps to ensure that Tunisians can connect anonymously to the internet and access."
The Tunisian government has not responded to a request for comment on the attacks.
In a twist, websites associated with Anonymous are also under DDoS attack, according to Netcraft.
The firm said that it had seen attacks against the AnonNews.org site, and the anarchic message board 4Chan, commonly frequented by members of Anonymous.
The attack on 4Chan is the second against the site in the last week.
Related Internet Links
The BBC is not responsible for the content of external sites.