Virtual London 2012 Olympics off starting block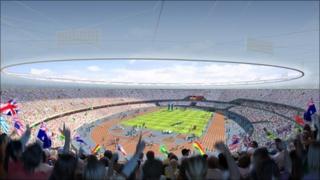 The finishing line may still seem some way off to the athletes preparing to compete in the London 2012 Olympics but the race is already on when it comes to making sure the technology that powers it runs smoothly.
In a lab in a Canary Wharf skyscraper, results of "virtual" races are already coming in as the 70-strong technology team begins 200,000 hours of stress testing.
By the time the Olympians descend on London, that team will have grown to 5,000 and some 18,900 technology devices will be in use.
It is just a small illustration of the scale of the task.
Stopwatch
Technology is a behind-the-scenes must-have, which can make the difference between a smooth games and a "glitch games", as Atlanta 1996 was dubbed after IBM's complex system for reporting results proved less than reliable.
These days people don't just expect 100% accuracy, they expect results the millisecond after an athlete has crossed the line.
The technology of an Olympic games is "the most complex piece of project management any city undergoes," according to Lord Coe, head of the London Organising Committee of the Olympic and Paralympic Games (LOCOG).
"There is the melding of well over one hundred venues. You've got 10,500 athletes, 4,500 Paralympians, 22,0000 members of the media that turn up and expect precision with results and the kind of technology that allows them to sound terrific when they're commentating," he said.
It wasn't always quite so seamless, as Olympic athlete-turned commentator Steve Cram recalls: "I used to walk into a commentary box with books and paperwork and I never 100% relied or was confident in the electronic systems" he said.
Veteran sports commentator David Coleman was even more sceptical, according to Mr Cram, using "his stopwatch more than he used to trust what was coming up on his screen".
From an athlete's point of view, technology is also pretty fundamental and Lord Coe remembers big differences in his days on the track: "I'd stand there, looking to see if I'd broken a record or, on a bad day, whether I was one of the qualifiers. Now it is all instantaneous," he said.
Unique challenges
The virtual Olympic lab will begin testing seven sports, including Athletics, tennis, basketball and triathlon and these seven alone will require half a million lines of code.
Some 880 PCs, 130 servers and 110 network switches are involved in analysing results and other crucial data created from the 35 sporting events that will be available in 2012.
By the times the Games arrive this will have grown to 900 servers, 1,000 network and security devices and 9,500 computers.
The tests simulate both normal circumstances as well as preparing the team for the unexpected, with tests of how data will be crunched in the event of a data centre fire, virus infection or other crises.
The lab is divided into 50 cells, each representing either a sporting event or a system, such as accreditation, which will rely on data.
The tech for 2012 will be the responsibility of seven partners, led by Atos Origin, the firm which has co-ordinated the technology of the last six Olympics.
Each venue has its own unique challenges, said Patrick Adiba, chief executive officer for Olympics and major events.
"At Athens some venues were only ready 24 hours before the events. In Vancouver there was no snow so they couldn't build the finishing line."
The challenge of London 2012 will more be about managing peoples' expectations about technology.
There will be wi-fi in the Olympic park and data services for mobile phones are being planned but there can be no "guarantees" that network coverage will always be at the best level.
New technology for London 2012 includes myInfo, an internet application that allows media, sports officials and athletes to access competition schedules, sports records and transport news.
Cyber attacks against websites have become high profile in recent months and Mr Adiba is under no illusions about how attractive the Games will be to cyber criminals.
"We will get cyber attacks for sure," he said.
But the nature of the system being built means such attacks are easily spotted.
"There is very little in-flow of data and if we see things coming in, we can quickly and easily see it. We are working to get the right level of defences," he said.
One of the buzzwords of London 2012 has been "legacy" and just as the venues and the sports they support are hoping to inspire a generation to come, so the technology will have life beyond 2012.
The committee is looking at "socially useful ways" to use networks and equipment built for next year, according to LOCOG chief information officer Gerry Pennell.
The sailing venue in Portland, Dorset, for example, will require the building of a high-speed fibre network which would be a good opportunity for BT to build a bigger local network after the event.
That decision rests with BT, said Mr Pennell but the local population will be hoping for a slice of Olympic technology to remain long after the last yacht has sailed out of the harbour.