Intel chip bug affects HP, Dell, Samsung and Lenovo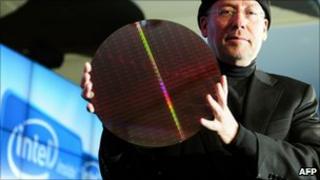 PC makers are halting sales of some machines because of problems with the latest Intel chips.
The problem centres on a chipset that helps a central processor communicate with other parts of a PC, including memory and hard drives.
About eight million of the faulty chipsets, called Cougar Point, have been distributed so far, said Intel.
HP, Dell, Samsung and Lenovo have stopped selling some machines built around Cougar Point.
The manufacturers said affected customers would get refunds, replacement parts or new machines.
Seven models of computer made by Samsung and four by Dell, plus laptops and desktops from Lenovo and HP, have used the faulty chipset.
The discovery of the bug has also prompted HP to cancel a mid-February event at which it planned to launch a range of business laptops to be built using Cougar Point.
The news about the bug is an embarrassment for Intel as it rolls out its newest batch of processors, called Sandy Bridge.
It is chipsets that work with two versions of the Sandy Bridge processors that have been found to be faulty. If left in place, the chipsets could cause hard drives or other storage devices to malfunction.
About 5% of PCs using the faulty part would have failed during a three-year period, said Intel.
"It would be a low and continuing failure rate over the life of the systems," Stephen Smith, vice president and director of PC Client, told Reuters.
Although millions of the faulty chips have been sent out to manufacturers, only about 100,000 had been put into finished systems.
Intel said it had already stopped producing the faulty parts and was now manufacturing a fully working version that would be available in late February.
The bug came to light following high-voltage and temperature tests carried out by manufacturers.