Microsoft's Internet Explorer 9 web browser goes live
By Maggie Shiels
Technology reporter, BBC News, Silicon Valley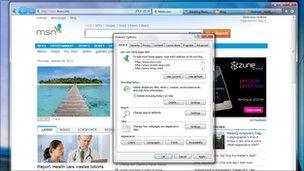 Microsoft has said the latest version of its internet explorer web browser puts it ahead of competitors like Google and Firefox.
The software giant, which is losing market share, made the bold claim as it unveiled what is known as the release candidate of IE9.
This is the final test drive for the new browser - a chance to catch any last-minute bugs before its debut.
IE9 has been downloaded 25 million times during beta testing.
Privacy and speed are being highlighted as two of the features that set IE9 apart.
"This release is one that is playing catch up [on past releases], but it leapfrogs everything and now you see the other folks on the back foot trying to catch up with us," Dean Hachamovitch, corporate vice president of Internet Explorer, told BBC News.
"This is a real race again in terms of browsers," said Lance Ulanoff, editor-in-chief of PCMag.com.
"To some extent, Microsoft had ceded that race, but when I first heard about IE9, my initial reaction was 'oh the game is on'.
Now it is a question of how people will perceive it when they look at it against Google Chrome and Firefox, but Chrome is where you have the most interesting battle and this is a true battle in the browser space."
One feature being put front and centre of IE9 is tracking protection that gives users better control over how their information is shared across the web.
Some content on websites can be used to track activity as people hop from one site to another. IE9's tracking protection means users can limit the browser's communication with certain websites to help keep information private.
"With this release you are seeing innovation after innovation that other folks are catching up to. Hardware acceleration was something no one was talking about until we did it. No one else was talking about privacy and tracking until we did it."
According to Web analytics company Net Applications, IE lost more than six percentage points of user share in the past 12 months. At the end of January, the browser hit an historic low with 56% of users using IE.
This feature relies on tracking protection lists the user can create, or on lists created by the four main online privacy and tracking companies to allow or block a site or ad network from tracking users.
Microsoft has said it will not generate such lists.
The feature is seen as a response to a call by the Federal Trade Commission for a web equivalent to the Do Not Call list aimed at telemarketers calling and harassing people at home.
Firefox also offers a 'do not track' option.
"The most exciting thing is this is a technology that is ready to use today and can provide a meaningful level of protection as you browse around the web," said Andy Zeigler, privacy programme manager with Microsoft's IE team.
"For example, the lists can block companies that collect data about you without your consent, which could be information like your browsing history, the sites you visit, the things you buy online and the videos you watch."
With speed becoming an increasingly seductive selling point for users, Microsoft said that this latest version of IE9 is faster than the beta by 35%, making it faster than any browser currently available.
Also new is expanded support for HTML5 and what is known as other "future-web" technologies. These include support for a geolocation feature and HTML5 semantic tags. These features are largely present in other browsers.
The company said it received over 17,000 comments from early users. As a result of some of that feedback, the software will let people add a new row of tabs to the bar at the top of the browser window. It will also pop up fewer notifications.
The company is now focused on encouraging developers to build new websites and user experiences on IE9.
IE9 is a free download that works Windows Vista and Windows 7 computers. It's not compatible with Windows XP.
Related Internet Links
The BBC is not responsible for the content of external sites.