Innocents chased to pay for illegal porn downloads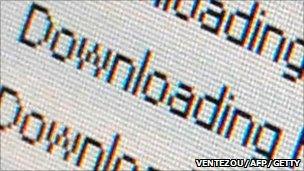 Thousands of people around the UK were sent letters by a controversial law firm, accusing them of allowing their computers to be used for illegal downloading but a whistle-blower claims not everyone who was sent a letter was guilty.
When "Sharon" opened her letter from a law firm, which came on bland, official-looking headed paper, she was shocked by its contents.
Sharon - not her real name - was accused of illegally downloading a pornographic film, and the letter included a demand for £495.
"It made me feel quite sick," she said. "And of course it created an awkward conversation with my husband. Fortunately we are very close and I knew I could believe him when he said he didn't download the file.
"It was not pleasant, being told if you don't pay up, you are going to be threatened with legal action."
Sharon had been caught up in a legal process based on shaky evidence and designed to get money from thousands of internet users.
An ongoing court case has focused attention on a firm of solicitors called ACS:Law, which sent demands for hundreds of pounds to more than 20,000 people, claiming they had illegally downloaded music, movies or porn without paying.
A judge last week estimated the company could easily have made £1m from the scheme, even though many of those who paid up may well have been innocent.
ACS:Law was acting on behalf of a copyright protection company called MediaCAT.
But one whistle-blowing former ACS:Law employee told 5 Live Investigates she felt so concerned about the firm's methods that she chose to quit her job.
"What I gradually became aware of was that some people were clearly not guilty," she said.
"Some of them were, for instance, old ladies who never downloaded files - they just didn't have security on their wireless connection. And some of the people ringing up came from pretty bad circumstances."
Andrew Crossley, who ran ACS:Law until it was wound-up, refused to comment on the claims.
But Judge Colin Birss, sitting at the Patents County Court in London, said last week that Mr Crossley's company could not drop prosecutions "to avoid public scrutiny" and added: "I cannot imagine a system better designed to create disincentives to test the issues in court."
In his judgment he criticised the letter-writing campaign: "Some people will be tempted to pay, regardless of whether they think they have actually done anything, simply because of the desire to avoid embarrassment and publicity given that the allegation is about pornography.
"Others may take the view that it all looks and sounds very official, and rather than conduct a legal fight they cannot afford, they will pay £495."
ACS:Law had identified alleged downloaders after another firm supplied them with a list of IP addresses - the numbers attached to every computer that goes online.
Critics argue this is an inaccurate method of identifying lawbreakers.
"The IP address only identifies a house, a business or a school, and not the person downloading," said Peter Bradwell of the Open Rights Group (ORG), a web freedom campaign organisation.
"Alternatively someone may be using your account fraudulently by stealing log-in details or 'breaking in' to the connection. There is a significant margin for error when IP addresses are linked with subscriber details."
Judge Birss gave credence to the campaigners' concerns, saying in his ruling that an IP address alone "cannot and does not purport to identify the individual who actually did anything."
ORG and other web campaigners and bloggers say the recent case highlights a fundamental weakness in the Digital Economy Act, and that internet users could be bullied into handing over cash by unscrupulous lawyers.
The Act, passed under the previous Labour government, includes provisions that will compel broadband companies to hand over IP addresses to copyright holders, if they suspect internet users have been illegally accessing their work.
Computer users who are found guilty of breaching copyright under the new Act could face a range of sanctions including having their internet connection speed reduced, or cut off altogether.
The Act was designed to solve some of the problems that the explosion in digital content has caused for the film and music industries.
According to industry group Federation Against Copyright Theft, audio and video industries lose nearly £500m a year to copyright infringement.
But campaigners say the law will encourage legal firms to seek compensation for alleged copyright theft, even when they do not have conclusive proof.
Peter Bradwell of ORG said: "The story of ACS:Law makes it clear just how important judicial oversight and due process are in the pursuit of alleged file-sharers. Without better standards of evidence and a meaningful appeals process, the damage to innocent people will only get worse."
The Department for Culture, Media and Sport says the Act is still needed, and includes safeguards to prevent abuse. A spokesman told the BBC: "The measures in the Digital Economy Act do not aim to attribute liability for online copyright infringement. They aim to reduce and prevent such infringement.
"Internet account holders will be informed when infringement is happening on their account and given advice on how to prevent it. The letters will aim to inform and will not ask for money.
"The code, which is due to be published by Ofcom shortly, will require a robust standard of evidence and there will be a readily accessible appeals process."
You can also listen again on the BBC iPlayer or by downloading the 5 live Investigates podcast.
Related Internet Links
The BBC is not responsible for the content of external sites.