Apps aid royal wedding followers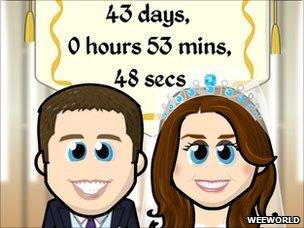 Royal wedding fans can now keep up with the latest news via their smartphone or tablet computer.
Free and paid-for wedding-themed apps are starting to pop up on smartphone stores for both Apple and Android phones.
The apps range from simple countdown clocks to sophisticated programs using stills and video.
Many have a feed of the latest news, and some delve into the background of the royal romance.
The simplest apps, both free and to buy, are those available for Android phones. Most are built around clocks that countdown the time remaining before the wedding day - 29 April.
Some paid Android apps give phone owners a new royal themed wallpaper every hour, while others provide up-to-the-minute William and Kate news.
A far wider selection of royal wedding applications is available for iPhones and iPads.
Many make heavy use of stills and video, featuring the Prince and his fiancé.
Hello magazine is offering its app for free for a limited time. It features a timeline of the royal romance and a chronicle of the couple's lives before they met.
The free Royal Wedding 2011 app made by 2 For Life includes a guide to royal protocol alongside pictures and news supplied by the Press Association.
UK firm Neon Play has also put together a free iPhone app that, as well as biographies of the bride and groom, includes a guide to Westminster Abbey and who will be sitting where.
Related Internet Links
The BBC is not responsible for the content of external sites.