Spotify ads hit by malware attack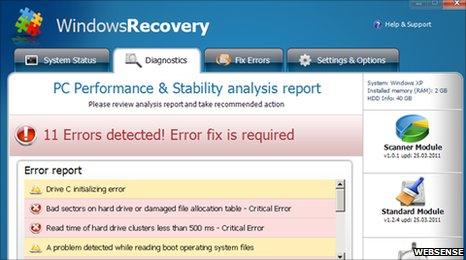 Spotify has apologised to users after an advertisement containing a virus was displayed to some users of the music-streaming service.
The advertisement, which appeared within Spotify's Windows desktop software, did not need to be clicked on in order to infect a user's machine.
The exploit would install a bogus 'Windows Recovery' anti-virus program.
"Users with anti-virus software will have been protected," Spotify said in a statement.
"We quickly removed all third party display ads in order to protect users and ensure Spotify was safe to use.
"We sincerely apologise to any users affected. We'll continue working hard to ensure this does not happen again and that our users enjoy Spotify securely and in confidence."
The vulnerability only affects users with free subscriptions.
Security research specialists Websense said it received the first report of "malvertising" on the service at 11:30GMT on 24 March, noting that it used the Blackhole Exploit Kit - a tool for hackers - to carry out the attack.
Malvertising is usually confined to content viewed through web browsers, but this instance was displayed within the Spotify software itself for people with a free membership.
"This means that the Blackhole Exploit Kit works perfectly fine and it's enough that the ad is just displayed to you in Spotify to get infected, you don't even have to click on the ad itself.
"So if you had Spotify open but running in the background, listening to your favorite tunes, you could still get infected."
Avast! anti-virus said the majority of their users reporting infections were from Sweden (59%), while 40% of virus reports relating to the vulnerability came from the UK. The rest were from other countries.
One affected user told the BBC: "I hadn't clicked on any advert but it did appear to download itself at the same time as the first advert image popped up in the Spotify program.
"The virus then began popping up on my desktop, telling me that I had a critical hard drive failure and would need to restart.
"It won't stop me using Spotify but did cost me about six hours to figure out what had happened and restore everything back to normal."
Spotify, which is based in Sweden, has over ten million users, most of which use the free service.
Related Internet Links
The BBC is not responsible for the content of external sites.