Apple wins $625m Mirror Worlds patents appeal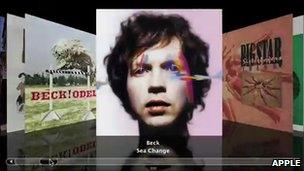 A judge has thrown out a ruling that would have forced Apple to pay $625m (£383m) for alleged patent infringements.
A jury decided last year that Apple's Spotlight, Time Machine and Cover Flow systems violated three patents held by small technology firm Mirror Worlds.
However, Judge Leonard Davis overturned the verdict saying that the claimant had failed to properly make their case.
The original fine was one of the biggest ever for patent infringement.
Mirror Worlds, owned by Yale University computer-science Professor David Gelernter, sued Apple in 2008.
The dispute centred on how documents are displayed on-screen - particularly the 'card-flipping' technique utilised when a user scrolls through music in their iTunes library.
In October 2010, a federal jury in Tyler, Texas awarded Mirror Worlds $208.5m in damages for each of the three alleged infringements.
Apple appealed, challenging the validity of the smaller firm's patents and arguing that they were not infringed.
Reviewing the case, Judge Davis upheld Mirror Worlds' patents, but decided that that the company had not provided enough evidence to support its complaint.
"Mirror Worlds may have painted an appealing picture for the jury," he said.
"But it failed to lay a solid foundation sufficient to support important elements it was required to establish under the law."
Neither Apple nor Mirror Worlds have commented on the new ruling.
Related Internet Links
The BBC is not responsible for the content of external sites.