Mobile phone users 'overpaying by £200' per year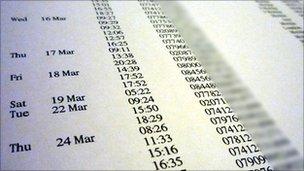 Three-quarters of mobile phone subscribers are wasting an average of nearly £200 a year because they are on the wrong contract, research suggests.
People over-estimating how many minutes they would spend on the phone was the main reason, with most using just a quarter of their monthly allowance.
Researchers concluded that the UK's mobile phone users were wasting nearly £5bn a year on misjudged contracts.
The Oxford-based business looked at data of customers of all the main networks, except 3.
Its research suggested that mobile phone users were sending an average of 300 texts a month.
It also found customers had doubled their use of data in a year, as they surfed the web on smartphones.
The average person spent £439 a year on their mobile phone.
Billmonitor said people were going on higher price plans than they needed to avoid being penalised for exceeding their free minutes.
The fear of "bill shock" was so great that customers typically bought four times more talk time than they used.
Three-quarters of customers never exceeded their monthly allowance of free minutes because, in many cases, they were on unnecessarily large contracts.
"Everything is expensive when you go over your allowance," said Dr Stelios Koundouros, one of the company's founders.
"However, the over-compensation of a four times bigger contract that at least half of those on the wrong contract are getting, that's not a rational response."
As well as those customers opting for excessively large talkplans, the researchers found that many others were signing up to deals that were too small then being hit with punitive charges.
The study found that a third of customers on the wrong tariff fell into this category.
Often, said Dr Koundouros, the reason behind that choice was psychological - by selecting a lower plan, users were able to convince themselves that they could run their phone more cheaply even if their final bill did not reflect that.
Taken together, Billmonitor calculated that the two groups - those who underestimated their usage and those who overestimated it - were wasting £4.9bn per year.
That works out at £194.71 each for such customers.
The report also identified new trends that could end up costing mobile users more money.
It said the growing popularity of smartphones meant more customers were now adding on data plans.
The average usage was 133MB per month, with around 5% of users exceeding 500MB.
However, the report warned that the many different levels of data tariffs on mobile networks could lead to confusion among users.
"Data is tricky because you don't know what data translates to looking at a web page or downloading a movie. It could be a factor of 100 times between one case and the other," said Dr Koundouros.
"Data allowances are now being tiered by operators. Given the mistakes we have seen people make on their minutes, we expect to see them make far more mistakes on their data use."
Billmonitor was created and is run by a group of Oxford University mathematicians.
The team has developed models for analysing complicated systems where a large number of variables need to be considered.
It has calculated that, in the UK, there are a total of 8,134,979 different contract permutations on offer to mobile phone customers.
Billmonitor's comparison system, which is the only one to be approved by telecoms watchdog Ofcom, compares users' real-life bills to the available deals.
Related Internet Links
The BBC is not responsible for the content of external sites.