Amazon sells ad-subsidised Kindle e-book reader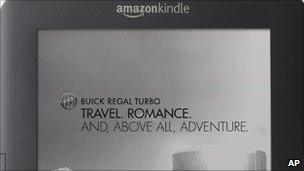 Amazon is to launch a cheaper version of its popular Kindle e-book reader which will feature on-screen advertising.
The retail giant has started taking orders in the US for the device, which costs $114 (£69) - $25 (£15) less than the current entry level model.
The 'Kindle with Special Offers' will display sponsored messages from the likes of Olay and Visa.
It will also present readers with details of other Amazon products.
The company would not confirm if an advertising-subsidised Kindle was coming to the the UK market.
"We do not speculate on future products," a spokesperson said.
Amazon said that the advertisements on the 'Kindle with Special Offers' would not interrupt reading, appearing only at the bottom of the Kindle's home screen and while the device is in its idle state.
Un-sponsored versions of the Kindle feature black and white images of iconic authors when not in use.
Amazon will also launch 'AdMash', a service which that allows users to vote on which screensaver ads they prefer.
The revised device is physically identical to the current WiFi-only model which retails in the UK for £111.
Kindle has proved incredibly popular with readers since it launched in November 2007, costing $399 (£241).
A massive pre-Christmas advertising campaign lead to Amazon's e-books sales reportedly outstripping those of paper books in the last three months of 2010.
However, the Kindle faces increasing market pressure from Apple's iPad and other tablet devices which offer a greater range of uses as well as reading books.
"[Amazon] is effectively starting to build a mobile advertising ecosystem, something it has lacked and where rivals like Apple and Google are well ahead of the game," says Eden Zoller from technology analysis firm Ovum.
The first ad-subsidised Kindles will be shipped to customers in May.
Related Internet Links
The BBC is not responsible for the content of external sites.