Fujitsu offers UK fast rural broadband network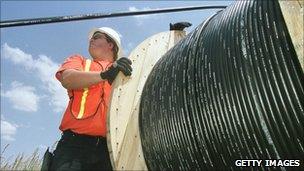 Fujitsu is to create a superfast broadband network for rural parts of the UK, rivalling BT's service.
Virgin Media and TalkTalk have already said they will use it to provide internet services. It will also be open to local authorities.
Much of the system will be built on BT infrastructure, such as underground ducting and phone poles, which it has been forced to open up to competitors.
Fujitsu wants £500m of government money to help fund the project.
That would account for the lion's share of the £530m the government has set aside to stimulate rural broadband projects.
This cash comes from a fund originally intended to help the digital switchover. A further £300m, from the BBC licence fee, will be available after 2015.
The money will be given to local authorities with Fujitsu able to bid to provide the network in that area.
Without it, the network will not be built, Andy Stevenson, managing director of network solutions at Fujitsu told the BBC.
"Assuming we are successful we would hope to add our first retail customer in 2012 and reach 5 million in three to five years," he said.
He is hopeful that local authorities will band together to provide funds for the project.
"We don't want to end up with 40 fragmented networks so it makes sense for regions to come together. That is not mandated but it is what we expect to happen," he said.
The announcement comes as research suggests just 1% of UK households currently have access to superfast broadband, defined as speeds of over 25Mbps.
The Fujitsu network will offer fibre optic cabling directly to homes - so-called Fibre-to-the-Home (FTTH). That could bring speeds in excess of 1Gbps with the potential to go even faster.
The system would be more sophisticated than BT's superfast network, which relies mainly on slower Fibre-to-the-Cabinet (FTTC) technology. FTTC offers speeds of up to 40Mbps.
Other ISPs, community groups and local authorities will be able to take advantage of the network.
Duncan Tait, chief executive of Fujitsu thinks it could breathe new life into rural communities.
"If done correctly this can be a key vehicle to accelerate recovery in the UK and bring genuine choice to generations of communities starved of participating fully in the UK economy," he said.
Virgin Media's chief executive Neil Berkett described it as: "a once in a lifetime opportunity to make the ambition of a digitally enabled society a reality beyond the country's cities and towns".
It is estimated that a third of the UK will not be served by existing commercial broadband solutions because it is not economically viable to offer them in remote areas.
Communication minister Ed Vaizey said the planned network was "exactly the sort of ambition and innovation" that the government wanted to stimulate.
Sebastien Lahtinen, co-founder of broadband news site ThinkBroadband said the collaboration between Fujitsu, Virgin Media and TalkTalk would provide "a real alternative to BT wholesale which could help jump ahead of urban areas".
"It is exactly what campaigners for the final third have been seeking. The UK could be about to take the biggest leap forward in next-generation broadband access," he said.
However, one sticking point could be the price BT is proposing to charge for access to its ducts and poles. It was forced to open them up to rivals but ISPs, including Virgin Media and Sky, have written to the government asking it to reassess the price.
In the letter, sent earlier this month, Virgin Media said it would be more cost-effective to build an entirely separate duct and pole network than pay the prices being asked by BT.
The government has said it wants to make the UK the best place in Europe for superfast broadband by 2015, but new research suggests that it is being adopted at a relatively modest pace.
Broadband analysis firm Point Topic found that just 1% of homes currently have broadband speeds of 25Mbps or above.
By the end of 2010, there were 175,000 superfast broadband lines, the majority made up from the 118,000 Virgin Media customers signed up for its 50Mbps broadband service. The rest came from BT or alternative operators.
"At that rate we should pass the quarter of a million milestone sometime between now and the end of April," said Point Topic chief analyst Tim Johnson.