Russia's new smartphone lays down challenge for GPS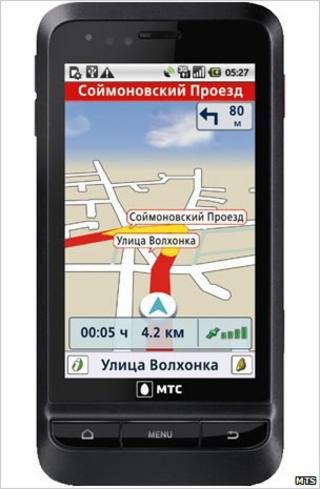 Is it a smartphone, or is it a piece of political propaganda?
When the MTS Glonass 945 Android device hit the stores earlier this month it was dubbed "Russia's answer to iPhone".
But the first ever handset able to receive signals from both GPS and the rival Glonass satellite positioning system appears to be leaving consumers underwhelmed.
Some have blamed its 11,000 roubles (£237) price tag. Others question why normal phone owners would need multiple positioning technologies.
But it does serve one important purpose - demonstrating that Glonass works.
After decades of development, Russia's Global Navigation Satellite System, had begun to be used for state purposes.
Many police cars, ambulances and public transport vehicles are equipped with receivers.
The launch of the Chinese-built phone was the next step towards Glonass' wider public acceptance.
However, it has been met with something close to indifference.
"There is absolutely no interest in the device from the mass consumer - there is a multitude of analogous products on the market that support GPS only, and are much cheaper," said analyst Eldar Murtazin from Mobile Research Group.
"The key point is, a consumer doesn't care if it's GPS or GPS-Glonass, they get their coordinates in either case - so why pay more?"
Mr Murtazin explained that the GPS-only European version of the handset, the Vodafone 945, costs half the price.
"For the device to be popular, it needs to be appealing and have an attractive price," he said.
"It's not right to double the price just because they're adding Glonass - especially because it does not give an ordinary user any real advantages for their daily positioning and navigation."
Precision
However, Valeriya Kuzmenko from the phone network MTS disagrees: "The positioning coordinates are more precise, and it is especially important in city areas with many buildings, as well as out in the wild.
"Also, a double-system device starts about twice as quickly as a single-system one - for example, when you get out of an underground car park and onto an unfamiliar street, your device might not be working for about a minute, and if you're unable to stop, you can simply get lost," says Ms Kuzmenko.
As for the price, she adds, it is the average cost of a smartphone with similar specifications.
But still, Russia's biggest telecom retail store Digital Centre ION has declined to stock the new phone - because, as the company's PR manager Dmitry Khovansky points out, it is "a very niche product".
"You can't say it's a sort of a 'Russian iPhone', as some people have called it. And it's not just about the navigation - this particular model is simply not very popular.
"People who buy phones of this price range usually choose models from brands like Samsung or LG. This phone is a bit too expensive for what it can offer - and for now, not many people are ready to rely on Glonass anyway," said Mr Khovansky.
He believes that the hand-held device has made it onto the market simply to show loyalty to Russian technologies.
International arena
But this could change in future - if the Glonass chipset becomes cheaper and manufacturers insert it in better-quality mobile phone models, he adds.
AFK Sistema, the company that promotes Glonass, said that many major world mobile phone brands were already in talks with Russia about the mass production of hand-held devices enabled with both navigation systems.
In fact, soon companies may be forced to sell Glonass-compatible mobiles in Russia.
By 2012, authorities aim to introduce duties of around 25% on the import of phones without the Russian navigation system.
And although many perceive Glonass as a rival to the existing US monopoly, Russian officials disagree.
They claim that their technology complements GPS, improving the accuracy and precision of the signal.
In future, Russia says Glonass will also work hand in hand with the European Union's Galileo and China's Compass network, when these two navigation systems are complete.
And there is some evidence that it is already going international.
Swedish company SWEPOS, a national network of satellite reference stations, has decided to use Glonass, saying that the Russian system is better than GPS at northern latitudes - and that two are better than one.
"Standalone GPS and standalone Glonass have about equal positioning accuracy, so 90% of our users are using dual GPS-Glonass system," said Bo Jonsson, the company's deputy head.
Mr Murtazin calls the agreement between Russia and Sweden an important political decision.
"This way, Russia gets a partner abroad and can now show that Glonass is getting out into the international arena. So it's great politically."
Military and civilian
Just like GPS, the Russian system was intended for army use in the late 1970s - but it later became a civilian project as well.
The Soviet Union launched its first navigation satellite in October 1982, in the midst of the Cold War and a space and arms race.
By that time, America had already sent up several GPS satellites.
In the early years of Glonass's existence, a total of 43 satellites were put into orbit, with the authorities aiming for global coverage by 1991. That was the year the Soviet Union fell apart, and despite previously ambitious goals, by that time there were only 12 functional Glonass satellites circling the planet.
Even though the state managed to complete the constellation a few years later, during those turbulent post-perestroika years, the Russian economy suffered and so did the funding of the entire Glonass project.
"There was simply not enough money to keep the system afloat, and there's no secrecy about that," explained Anatoly Perminov, the head of the Russian Federal Space Agency Roscosmos (which oversees the project), in an earlier interview with BBC News.
With 21 functional satellites now in orbit, Glonass covers the entire territory of Russia and about 80% of the Earth.
The constellation was meant to be completed by 2011, but a spacecraft launched last December carrying the last three satellites veered off course. It is thought to have fallen into the Pacific Ocean near Hawaii.
To ensure global coverage, there should be at least 24 functioning satellites.