Google Chromebook: Will it be a computing revolution?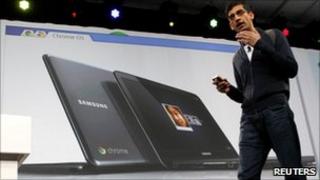 At Google's developer conference in San Francisco, the company took the wraps off a couple of laptops that it believes will herald a revolution in how we will use computers in the future.
The machines, by Samsung and Acer, will be powered by the company's Chrome operating system and will be geared towards getting users to do everything via the web, because they say that is where most people increasingly spend their time. The devices are being called Chromebooks.
After the keynote presentation given by Sundar Pichai, senior vice-president of Chrome, he and a number of other execs conducted a question-and-answer session with journalists. To show how serious Google is about Chrome and where it figures in its future plans, company co-founder Sergey Brin also took part.
As you might have read, he told the assembled hacks and bloggers that "Chrome is venturing into a new model of computing that I don't think was possible previously even a few years ago".
That new model he is referring to is about doing everything in the cloud and doing away with the need to store things like files, folders, images, music, movies, documents, spreadsheets etc on your computer. That in turn means that the computer you log into everyday for work or pleasure becomes what Google refers to as a "stateless" machine.
Because everything is in the cloud, you can access all your stuff via any machine that has an internet connection. That of course means you never have to worry about not being able to get at what you need to get at because it is stuck on a file on the desktop at home or work.
'Psychological hurdle'
Google's vision also means that you don't need a machine that has a lot of useless software that you really don't use to its fullest degree but which slows down your computer. I know that both on the Mac and the PC I have, I really don't use them to their maximum capability. I don't think I am alone here.
But are we ready for this computing revolution?
Mr Pichai told me yes. "I am genuinely convinced almost everyone is ready for it today."
Six months ago Google gave out a prototype to Chromebooks called CR-48 so that people could play around with them and the company could learn what works, what doesn't and how to improve on things.
I was one of many people who was given one. I admit that in a house with five laptops, two desktops, a number of smartphones, iPods and an iPad, I haven't really put the CR-48 through the most rigorous of tests. I don't do reviews and I am not about to do one now but I will say that I think my initial experience will mirror that of many people who make the shift to what is being termed as a new paradigm in computing.
The biggest hurdle I faced was a psychological one. I just simply found it hard at first to do things in a different way - for example to use the device without the comfort of seeing that toolbar with all those familiar icons. Of course you can download all these from the web for yourself but it meant I had to make all the decisions instead of them being made for me. Actually kind of nice once I got used to it.
I also felt a bit wobbly about not being able to open a file and write a script and save it on the desktop. While I am comfortable about putting a lot of stuff in the cloud, my media, docs and scripts also reside on my desktop. I feel I am covered somehow by having it in two places at the one time, if that makes sense.
Final word
I am using the CR-48 more and more, but it is still a process. Part of the reason is because I use a Mac for virtually everything, including writing this and I am used to its wily ways. Comfort in the familiar is a hard thing to break and I think that will be a big hurdle for Google and its partners.
A number of commentators and industry analysts that I spoke to also told me that they believed the same would be true for the majority of users. One way to have a major impact and help users break with the old will be in the workplace, the place where people spend most of their time on computers. Habits learned here get carried over into the home and everyday life. One informs the other.
Despite the initial wariness by the industry watchers I spoke to, they did all agree that down the line the form of computing being championed by Chromebooks will become the norm. Steven Levy from Wired Magazine and the author of a new book on Google called In The Plex said he thought the full embrace of this brave new world was 10 years away.
In the world of technology, it is often said that being too early can be just as fatal as being too late.
Just think about Microsoft's efforts back in 2001 with tablet computers. Despite the money, time and expertise put into crafting these devices, it was rival Apple that made the breakthrough with the iPad and reignited the tablet market that Microsoft could arguably say it started.
For Google a lot of course depends on the quality of the computing experience offered by the upcoming Chromebooks, the first of which will be available in June.
Mr Brin said from a technology point of view, the time for "an easier way to compute" is now.
Mr Pichai said users and developers would have the final say.