Volunteers sought for 4G LTE trial in Cornwall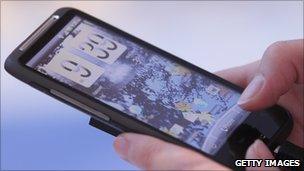 Volunteers in an area of Cornwall are being sought to trial new high-speed 4G broadband as part of a joint project by Everything Everywhere and BT.
The trial, from September to December in South Newquay, will be focusing on offering broadband in expensive-to-reach rural areas.
It will be the first chance for UK customers to test 4G technology, which is set to roll out nationally by 2014.
UK networks will bid for use of the 4G spectrum early next year.
The auction will follow a consultation period that has already begun into how the 4G spectrum will be distributed among networks in the UK.
For the Cornwall trial, Everything Everywhere - the name given to the partnership of T-Mobile and Orange - and BT have been granted part of the 800 MHz spectrum for test purposes.
The spectrum is currently being used across the UK for analogue television but is in the process of gradually being switched off.
The trial will act as an experiment to see if 4G LTE could provide a cheap solution to getting high-speed internet to places currently regarded as black spots with slow or no broadband connection.
LTE, which stands for Long Term Evolution, is a particular type of 4G system that allows data download speeds of 100 megabits per second while on the move, and faster speeds for stationary wireless connections.
This faster capability means that rather than providing physical cabling to less urban areas, BT will instead be able to use masts from Everything Everywhere to distribute its broadband wirelessly.
"Instead of building two networks, we're trying to do it with one," explained Emin Gurdeneli, VP of network services at Everything Everywhere.
"The customer will enjoy a broadband service at their premises, at their home etc, as if they had acquired it in the usual way. What will be different is our delivery mechanism."
The trial is being supported by Nokia, Siemens and Huawei, as well as the Cornwall Development Company.
Half of the people in the trial will have their homes fitted with modified wireless routers, which will be able to pick up the area's 4G connection to give the household access to the internet.
The other half will be given 4G dongles with which to try out the connection on individual devices such as laptops.
Speeds of uploads and downloads will be measured to determine the technology's success. Until now, 4G LTE's capabilities in the UK have been measured only in laboratory conditions.
"They're trying to avoid digging up the roads, so that removes the large cost of getting superfast broadband to those rural areas," he told the BBC.
He added that the 4G broadband could provide those in the trial with faster connections than most current fixed-line broadband customers.
"It has the potential to jump them into the next generation world."
However, the UK still lags behind other countries with its 4G rollout. Germany, Sweden, Japan and the US already have public 4G networks in use.
Related Internet Links
The BBC is not responsible for the content of external sites.