UK rural broadband plans move on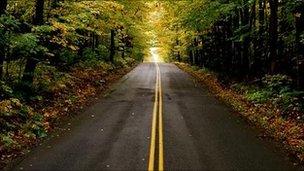 Homes in Devon, Somerset, Norfolk and Wiltshire will get super-fast broadband, the government has said.
Making sure rural areas have fast net services is part of a wider drive to make the UK the best place for broadband by 2015.
Each county will receive a portion of the £530m fund the government has set aside to fund rural broadband.
The Department for Culture said that all the UK's local authorities will receive funding in the next few years.
"This is part of our plan for virtually every community in the UK to have access to super-fast broadband," said culture secretary Jeremy Hunt.
The government acknowledges that its £530m pot - which is money left over from an earlier digital switchover fund - will not be enough to give the entire country fast broadband.
Private investment will also be needed.
The successful counties were among 18 which originally bid for the money.
Devon and Somerset will receive around £30m, Norfolk £15m and Wiltshire £4m and they will then choose a contractor and technology best suited for their needs.
The government anticipates that the technologies will be a mix of mobile, satellite and fibre connections.
Wiltshire Council has already pledged to spend £16m on broadband services across the county.
The government announced the first tranche of its rural broadband plan in October 2010, setting up three pilots in North Yorkshire, the Highlands and Islands of Scotland and Cumbria and Herefordshire.
It has been accused of being far too slow to get the trials up and running. So far none are live and only two have begun the process of finding a firm able to offer services.
Fujitsu has pledged to build a super-fast network across the whole of rural Britain. It has said it will offer fibre-to-the-home technology to around five million homes. That could provide homes with speeds of up to 100Mbps (megabits per second).
In order to do so it will rely on using BT's infrastructure - the ducts and poles that provide telephone and broadband services around the UK.
Ofcom has forced the telco to open up its network but some have argued that the prices it is planning to charge for access are too high.
Revised pricing is expected in June.
According to BT, Fujitsu has yet to join its ducts and poles trial.
Related Internet Links
The BBC is not responsible for the content of external sites.