Tablets to take stage at Computex in Taipei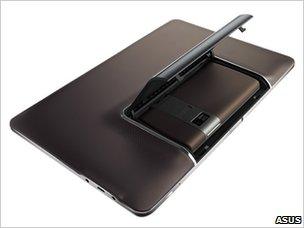 Over 50 of the latest tablet computers will be on show as the annual Computex computing show kicks off in Taipei, Taiwan.
All will be hoping to put a dent in the Apple iPad's dominance of the market amid falling PC sales.
The event is the second-largest in the computing diary, and runs from Tuesday to Saturday.
Highlights will include the Padfone, an Asus-made phone that becomes a tablet when slotted into special casing.
Asus, which is based in Taipei, will also be showing off the UX21, a slimline laptop set to take on Apple's Macbook Air series, and the Asus Eee Pad MeMO 3D - a glasses-free 3D tablet.
Elsewhere at the event, ViewSonic will display what it says is the first tablet equipped with both Windows 7 and Google Android operating systems.
"While iPad users are aimed for entertainment, our new machine has functions more than that," Mr Wang told reporters.
The device will weigh just over 830 grams (1.8lb) and is expected to go to market in the summer, priced at around $799 (£485).
Also giving an early peek at their show products were Shuttle.
Their tablet, the Shuttle V08, is expected to cost just $200. Company manager David Chen hopes it can soak up users priced out of more advanced tablets - most likely to be students.
"It's true iPad is popular," Mr Chen said. "But it is impossible for Apple to take the world's entire tablet market.
"There is still room for some tailor-made tablet developers."
Rising consumer interest in tablets has seen researchers predict slower growth in PC sales across the world.
Gartner Research cut its sales growth forecast for global PC sales in 2011 from 15.9% to 10.5%.
Acer, the third biggest computing manufacturer worldwide, saw its PC sales drop by 20% year-on-year in the first quarter of 2011.
According to IHS iSuppli, 8.1 million PCs were sold in the same period for all manufacturers.
Worldwide sales of tablet computers are forecast to hit 50 million units this year and double to 100 million in 2012 the Taipei Computer Association has predicted.
Apple is expected to retain the lion's share of the market with 70-80%.
Related Internet Links
The BBC is not responsible for the content of external sites.