Apple to unveil own cloud service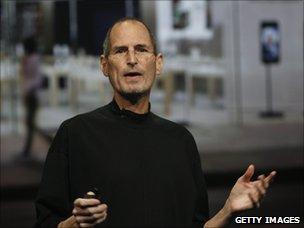 Apple CEO Steve Jobs will announce a range of new products, including a widely anticipated cloud service, at its developer conference next week.
iCloud is likely to offer services rivaling that of Google and Amazon.
Attendees will also see Lion, the latest version of Apple's Macintosh operating system, and an upgraded version of mobile system iOS.
Mr Jobs, who is on medical leave, has not appeared in public since March.
Details of the products on show came via an Apple press release ahead of its Worldwide Developers Conference (WWDC) - an unusual step for a company which is usually very secretive ahead of its flagship event.
Rumours of the iCloud have been circulating since it was reported that Apple bought the "iCloud.com" domain name in April.
However, it is unclear whether the iCloud will be a purely music streaming tool or if it will be a wider cloud service for storage such as the one offered by, among others, Dropbox.
Amazon and Google have already launched streaming music services, but so far have not managed to get big record labels on board - meaning they can only offer streaming of tracks already owned by the user.
Unconfirmed reports have hinted that Apple has managed to seal deals with several labels.
If true, this would make it a fierce competitor to Spotify, an already well-established music service with over 10m members.
Spotify is not yet available in the United States.
Last year, Mr Jobs said Lion - the eighth version of its Mac OSX operating system - would bring "many of the best ideas from the iPad back to the Mac, plus some fresh new ones".
Also on show will be the fifth version of iOS, the software which powers the iPad, iPhone and iPod touch.
However, official details about the next iPhone have yet to be publicised.