Radioplayer listening figures 'encouraging'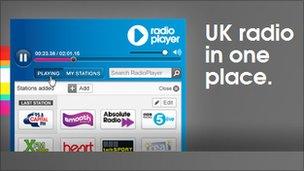 Radioplayer, the digital service which brings together BBC and commercial stations, had 5.7 million unique users last month.
The figures are the first usage statistics to be released since the system went live in March this year.
Between them, users in May launched 22.5 million listening sessions across the 238 participating stations.
"This is a really encouraging first set of figures," said Andrew Harrison, chairman of Radioplayer.
Figures from radio research group RAJAR estimate that 5.3 million people in the UK listen to the radio via the internet each week.
The Radioplayer system aimed to simplify listening to radio online by bringing hundreds of UK stations together on a single site.
It also introduced shared standards so that radio players used the same interface and design - as opposed to each broadcaster adopting different, potentially confusing, styles on their respective websites.
At its launch, Radioplayer had 157 stations on board. A further 81 stations have since joined, with more in the pipeline.
At the system's launch, Mr Harrison said all 400 Ofcom-licensed stations will be added within a year.
Radioplayer said the launch of its player building tool this week will help smaller stations join the system.
"We look forward to building on this very positive foundation to create something that serves both industry and listeners alike," Mr Harrison said.
Radioplayer's managing director Michael Hill added: "Growing digital radio is a long game, but we now have two magic ingredients. A simple, consistent Radioplayer with millions of users, and an industry working collaboratively on its digital future.
William Rogers, chief executive of UKRD, a media company responsible for 13 commercial stations, believes the Radioplayer has so far been a success.
"I think these figures highlight that where you present something to the public that is both useful and beneficial, they will use it.
"This is a classic example of a well constructed, well built, well thought-through digital initiative."
Related Internet Links
The BBC is not responsible for the content of external sites.