Rioting Canadians exposed online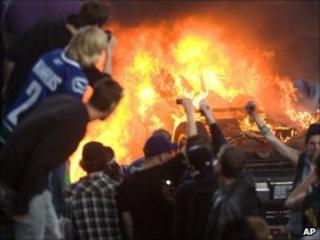 Concerned Canadians have turned to social media to name and shame people behind the riots in Vancouver.
Violence flared in the city after the Vancouver Canucks hockey team lost to the Boston Bruins in the final game of the Stanley Cup.
Cars were set on fire and shops were looted by mobs of angry fans roaming the city centre.
Facebook groups and picture blogs have been set up to catalogue those inciting the worst of the violence.
A "riot criminal list" was created on the Tumblr photo blog site to gather images of those claimed to be involved. It gathered video of the ongoing trouble as well as pictures of individuals breaking shop windows, helping to flip cars and attacking riot police. Dozens of pictures were posted within hours of it being set up.
Similar pages on Facebook have attracted thousands of supporters.
Vancouver Mayor Gregor Robertson and the police department issued calls to those in the city at the time of the riot to save their pictures.
Mayor Robertson said they would be used to identify and track down the "hooligans" involved. The police said they would set up a site where people can electronically upload images.
A Facebook event has also been created to help deal with the aftermath of the riot. The page asks for pledges to go into the city centre and help to clean up. More than 10,000 people have signed up to get involved.
An associated Twitter account called @vancouverclean aims to co-ordinate the volunteer effort when it gets underway.
The page advises people to bring gloves, garbage bags and smiles along.