Is the air escaping from the tech bubble?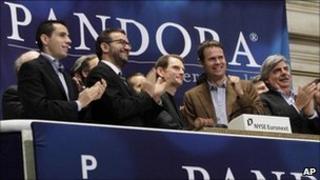 We've seen something of a technology bubble over the last six months, with valuations of the likes of Facebook and Groupon soaring to levels many consider insane, and desperate investors rushing to get their hands on shares in newly-floated tech firms.
But is this the week that the bubble bursts, as investors wake up to the fact that hot new stocks may prove as fragile as they were in the last dotcom boom?
I've been keeping an eye on the prices of the business social network LinkedIn and Pandora, the internet streaming radio service, and wondering whether history is repeating itself.
LinkedIn's IPO in May was greeted with euphoria, the price soaring to $122 on the opening day, briefly making it worth $10bn. That on profits last year of around $15m.
This week it was Pandora's turn to enjoy the limelight. In frantic first-day trading, the internet radio business which is still unprofitable saw its shares soar way above the initial price range.
At one point they hit $26 and Pandora was worth over $2bn. Just to put that into context, UTV Media, a profitable media business operating UK radio stations such as TalkSport, is valued by the market at something like £120m.
But in the last week, the price of LinkedIn has sagged, falling back below $70. And in the last 24 hours, the air has rapidly come out of Pandora's balloon, with its share price now heading back below $13.
Now investors may be just taking a breather before inflating the bubble even further, but this all reminds me of what I saw in the UK on 14 March 2000.
Back then a tiny business called lastminute.com arrived on the stockmarket to huge excitement, its price pumped to ridiculous levels by investors who were desperate not to miss out on the latest hot dotcom stock. But that proved to be the day the music stopped.
Very quickly, the price of this and other dotcom stocks started heading south, and other high-tech hopefuls found it impossible to get a stock market flotation.
There are big differences between then and now. In 1999 and 2000 any company connected with technology saw its shares soar. This bubble has not lifted the price of every business, with investors more discriminating in their enthusiasms.
Just look at the Blackberry-maker RIM, which has seen its shares fall by more than two thirds since February, or the even more serious plight of Nokia.
But until this week any new business that looked "social" has apparently been exempt from the normal rules of investment. Perhaps we will look back on 17 June 2011 as the day that social bubble burst. Then again, I'm not putting any money on it.