LulzSec targets Arizona police over immigration law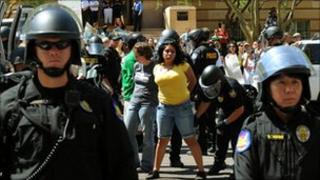 Arizona's police force has become the latest victim of hacker group LulzSec.
About 700 confidential documents belonging to the Arizona Department of Public Safety (AZDPS) were stolen and published online.
The cache includes e-mails, memos and training manuals as well as intelligence bulletins detailing work with informants.
The group said it had targeted AZDPS because of a controversial state law designed to stop illegal immigration.
"We are aware of computer issues," Steve Harrison, a spokesman for the force told Reuters. "We're looking into it. And of course we're taking additional security safeguards."
Sabotage
On 24 June, Lulzsec announced that it was putting 400MB of documents on the Pirate Bay file-sharing website via a short message on its Twitter feed and a statement on its website.
It said that AZDPS had been targeted because of its role in upholding the Support Our Law Enforcement and Safe Neighborhoods Act, also known as SB1070.
The legislation, passed in 2010, forces legal aliens to carry their ID documents at all times. It also obliges Arizona police to check those papers when they have a reasonable suspicion that a person may be there illegally.
As a border state, Arizona is particularly affected by illegal immigration. However, critics believe that SB1070 amounts to racial profiling.
Terror targets
Also included in the LulzSec document cache is a Powerpoint presentation about the potential vulnerability of ferries to attack by terrorists, lists of trends in suspicious incidents and a report that drug gangs are using scouts on horseback to evade capture.
The theft is part of an initiative Lulzsec kicked off last week called Antisec which is aimed at taking confidential documents from governments, the military and law enforcement agencies.
It plans to release a batch of stolen files every week to "purposefully sabotage their efforts to terrorize communities fighting an unjust 'war on drugs'."
In recent months Lulzsec has carried out attacks on a wide range of targets and has taken down the websites of the US Senate, the CIA and the UK's Serious Organised Crime Agency.