Google faces 'wire tapping' case over Street View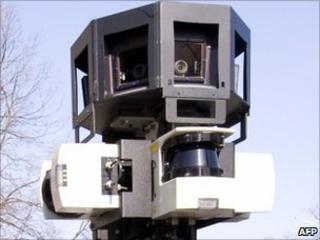 Google could be sued for scooping up data from open wi-fi networks after a US court ruling.
A judge in San Francisco decided that the company's actions may have violated federal laws on wire tapping.
Google had tried to have the class action lawsuit thrown out, claiming that anyone could have intercepted the wireless signals.
It had previously admitted collecting the data by mistake while gathering images for its Street View service.
Since the blunder was revealed, Google has stopped its Street View cars logging wi-fi networks.
Private data
The problem was discovered in 2010 when German data protection officials asked the company what information its Street View photography cars were collecting.
As well as taking panoramic images, it emerged that they also logged wi-fi networks to help with the search firm's location services.
That involved sampling packets of data from wireless hotspots. On open, unencrypted networks the system grabbed logins, passwords and other personal details. About 600MB of data was collected in 30 countries.
At the time, Google apologised for its action, blaming a coding error, and pledged to delete the data.
The revelation led to investigations in several countries. France fined Google 100,000 euros (£87,000) over the breach.
In the US, a class action lawsuit was brought on behalf of plaintiffs from nine states. The case is being heard in California where Google's headquarters is located.
The company tried to have the case dismissed on the grounds that the data gathering was inadvertent. It also said that anyone could have intercepted the transmissions.
US District Court Judge James Ware disagreed and said that just because a wi-fi network was open did not mean it was meant to be public.
"Merely pleading that a network is unencrypted does not render that network readily accessible to the general public," Judge Ware wrote in his decision.
The fact that Google used some specialist equipment meant it was was liable for prosecution under federal wire tap laws.
Judge Ware threw out several other elements of the complaint against Google, relating to state laws on wire tapping and unfair competition.
In a statement, the company dismissed the claims and said it would consider the latest ruling before deciding whether to launch an appeal.
US laws on wire tapping were in need of updating, said Jim Dempsey, a privacy expert at the Center for Democracy & Technology.
The laws were last updated in the late 1980s to address such things as CB radio and baby monitors, he said.
"I don't think anyone doubts that it should be illegal to intercept someone's communications," said Mr Dempsey.
"But I think it's equally clear that the law doesn't clearly cover that issue right now and that the law is really a mess."