TEDGlobal: Technology to crowd-source clean water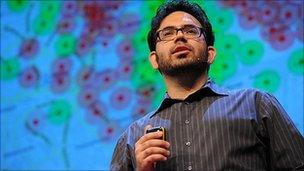 A device that crowd-sources water quality could help prevent the spread of diseases such as cholera.
The Water Canary checks supplies in real-time, alerting users to possible infections.
It is also able to upload the data, allowing scientists to monitor the location and movement of outbreaks.
Unveiling the device at the TED Global conference in Edinburgh, researchers said they hoped eventually to give the units away for free.
More than three million people die each year from water-related disease, according to the World Health Organisation.
"Water Canary is an open source tool to rapidly test water and transmit information in real time to be instantly assessed," said co-founder and TED fellow Sonaar Luthra.
He explained why such a device is needed.
"Currently water testing is too slow and too expensive. We only test water in hindsight," he told the BBC.
"When cholera hit Haiti there was no way of knowing how fast it would spread," he added.
The device will be able to test for both micro-biological and chemical contaminations using spectral technology. It will provide instant information on whether the water is drinkable via a red or green light on the device.
Mr Luthra is hopeful to get manufacturing costs to below $100 although he envisaged the end user will pay much less.
"Ideally we will give it away because it will be the data that is really valuable," he said.
The device will be capable of wirelessly sending GPS-tagged data from any available network.
"We will be collecting data off thousands of devices from which many conclusions will be drawn. This is all about information and empowering people with real-time water information," he said.
Such information could prove invaluable for governments around the world keen to contain disease and environmental disasters.
Unsafe water kills more people each year than die in conflicts, according to Mr Sonaar but currently there are no agreed method for assessing water quality.
"The metric for measuring water is different in many cases. This device could help make a decision on what constitutes safe water," he said.
The project grew out of the New York University Interactive Telecommunications Programme, which focuses on human-centric technology design.
Mr Luthra is hopeful that over the next year he will be able to get the device ready for use in the field but he is reluctant to put a date on this.
"So many tech firms promise things that they can't deliver. We wouldn't want to disappoint people by saying they could have it and then disappointing them," he said.
Related Internet Links
The BBC is not responsible for the content of external sites.