TEDGlobal 2011: Social media game aims to end extremism
By Jane Wakefield
Technology reporter, TEDGlobal, Edinburgh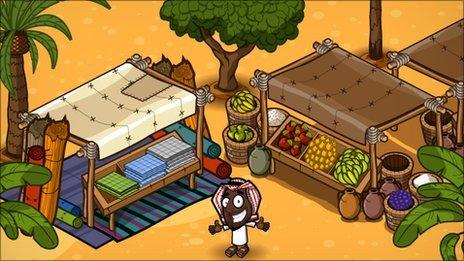 A social media game with Arab super heroes at its heart has been launched on Facebook.
The man behind the project, Suleiman Bakhit, hopes that Happy Oasis can create positive role models for children who might otherwise be enticed by extremist views.
The game launched this week and has already attracted 50,000 followers.
Newly appointed TED fellow Mr Bakhit spoke about his project at the TEDGlobal conference in Edinburgh.
Mr Bakhit, who comes from Jordan, was a student at the US University of Minnesota when the 9/11 attacks took place. Shortly afterwards he was attacked by four men because he was an Arab.
Instead of feeling bitter, Mr Bakhit decided to engage in an education campaign.
"I realised that you fight extremism by starting with the young. The message was simple - 'We are not all terrorists'," he told the BBC.
Armed with a not-so-magic carpet, he began telling Aladdin-style stories in local schools.
"One day a child asked me if there was an Arab superman and I realised that there wasn't," he said.
So began his comic-book project which aimed to create a range of positive Arab role-models, including a female James Bond and a Jordanian special agent who fights extremists.
In Jordan, Mr Bakhit has sold 300,000 copies of his comics and came to realise that there was a market for a web-based version.
"Print media is dying but there are 30 million Arabs on Facebook so I thought about making social games with the same message," he said.
Mr Bakhit wanted to make sure that his characters related to the children he was aiming to reach.
"I took a peer-to-peer approach, engaging kids to get their ideas," he said.
He was undecided about whether to include a character dressed in a burka until he showed the animated character to a focus group.
"They loved the idea so she was in," he said.
The first game featured special agent Element O and while it was, in Mr Bakhit's words "not very good", it did show him the potential of such a project.
"Fans were discussing the games in the forums and arguing about politics. I went on as Element O and the arguments immediately stopped," he said.
Mr Bakhit said he now hopes to take his comic book model to Pakistan, where extremism is a growing problem.
Related Internet Links
The BBC is not responsible for the content of external sites.