All-organic carpets could have multiple lives
By Katia Moskvitch
Technology reporter, BBC News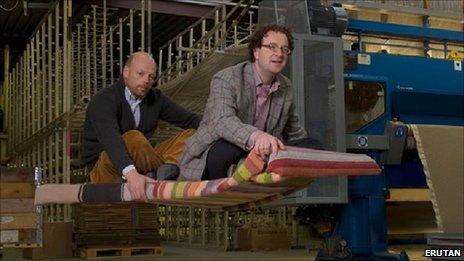 When a carpet gets old, users usually throw it away.
And in our increasingly recycling-aware society, a carpet is one of those things that usually does not get re-used - it is simply burned.
That could soon change, say researchers.
An international team of scientists has come up with a method to make wool carpets from all-natural materials that can be re-processed after a life cycle.
Although wool and cellulose fabrics are biodegradable, most modern carpets have another ingredient holding fibres together.
It is a bonding agent called latex - and because of it, carpets usually end up in an oven.
The new project, funded by the Dutch government, is called Erutan - or "nature" read backwards.
It is a joint venture of three Dutch companies - James, Best Wool Carpets, and Bond Textile Research, working in cooperation with three technology developers - Research Institute TNO in the Netherlands, Technical University of Graz in Austria (TUG) and Universitat Politècnica de Catalunya in Spain (UPC).
The researchers decided to replace all synthetic substances and chemicals with organic materials, enzymes and polymers.
In the end, they managed to get an all-natural carpet that looks and feels exactly like any other wool carpet, and has the same characteristics in terms of its flexibility, durability and life span.
"It's a natural solution - sheep eat grass, from the sheep we get wool, and from the wool we make a carpet with natural ingredients," Dr Yvar Monasch of Best Wool Carpets told BBC News.
"After use - and it depends where the carpet is used, as in hospitality it is only used for about three years, but at homes it can be used for 15-20 years - we'll take it back and re-process the raw materials."
This way, a second-life carpet could be produced, he explained. Alternatively organic waste could be used as a sort of a fertiliser in agriculture.
Different partners are responsible for different stages of the manufacturing process.
The major innovation, according to the team, is swapping synthetic ingredients for organic ones - and getting rid of latex.
This is done by UPC in Barcelona, with Dr Tzanko Tzanov heading a team of researchers.
He explained to BBC News that in an ordinary carpet, there is usually a layer of latex on the back side, necessary for "gluing" the fibres to the backing fabric and keeping the dimensional stability of the carpet.
Some 1.2 kg of latex is normally required per square metre.
After a carpet's life cycle, it is usually impossible to take the latex off in order to recycle the product.
But the Erutan group decided to eliminate this substance altogether - and replace it with an organic adhesive.
"Our adhesive is based on natural compounds such as lignin or tannic acid," said Dr Tzanov.
Lignin is a basic biopolymer that is a natural waste product from paper industry and a compound of many materials, including wood.
It is normally burned for energy - but Dr Tzanov's team used biotechnology - oxidative enzymes - to convert it into an organic "glue".
"All this happens at about 50ºC, instead of 150ºC as for latex," he added.
Enzymes are proteins that catalyse, or increase the rates, of chemical reactions, and they are used to speed up a natural process.
With this enzymatically-generated adhesive, the scientists were able to bond linen - the main component of the backing fabric and a natural cellulose material - with wool fibre in a matter of minutes.
"It's the same as when you did your laundry in the washing machine 20 years ago - to get it as clean as a modern machine gets it now, it would take you a really long time," said Dr Monasch.
"But with enzymes in washing powders everything has gotten faster, you use less water, it's much better for the environment and those enzymes come from nature."
But the scientists did not want to stop at changing basic ingredients - they decided to make all other processes associated with manufacturing eco-friendly as well.
For instance, the researchers from Technical University of Graz in Austria came up with a way to wash dirty, greasy raw wool from New Zealand sheep without any detergents, salt or any other chemicals.
Again, they clean it with enzymes.
The wool dying method is also innovative, using natural dyes.
"We're not sticking to synthetic dyes anymore - and though natural dyes are often not quite stable, by binding them to clay platelets - a kind of carrier for the dye - the stability of those dyes improves dramatically," said Dr Herman Lenting from the research institute TNO.
Besides natural manufacturing process and ingredients, another important idea is recycling used carpets.
Instead of ending up in incinerators, the products would be shredded and re-used - and to make sure people actually bring their old carpets back, the company is prepared to pay them.
"Today, most carpets are very much welcomed by the garbage industry because they burn really well," said Dr Chris Reutelingsperger from Bond Textile Research.
"So either they burn it in their own ovens or they sell it to concrete industry to burn it as well, so it's only being used as energy - whereas we can re-use the raw materials in actual products again.
"And if you look at the future of our world, the shortage will be in raw materials if we continue to burn everything that we use."