British Gas installs smart meters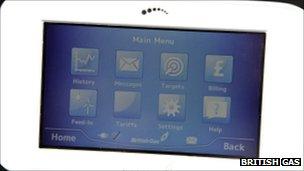 British Gas has begun rolling out smart meters to its UK customers.
The energy provider plans to install the devices in 10 million homes.
Users will be able to monitor the cost of their electricity and gas consumption in real time, and eventually see how much power individual appliances are using.
The government has ordered that all homes be fitted with smart meters by 2020 in a bid to reduce carbon emissions.
British Gas is the UK's largest energy provider. Other companies, including EDF and nPower have also announced plans to upgrade their customers.
It is hoped that ability to easily check power use with pounds and pence costs attached will encourage customers to examine their usage.
British Gas said that it would be using the data to help people make informed choices.
"It can very quickly be used to deliver brilliant insight to the consumer to say 'you don't have enough insulation in your home', or 'your central heating system is costing you a fortune'," said Dean Keeling, managing director of British Gas Smart Homes.
"It helps us deliver insight to the consumer which they can trust, and we know is accurate. Ultimately for us that helps us build a better business."
Environmental campaign group Greenpeace welcomed the introduction of smart meters.
"Smarter use of energy is one of the biggest differences we can make, rather than just thinking about new ways of generating more energy," said a spokesman.
"It will go some way to helping the UK meet its carbon emission targets".
British Gas customers who receive the upgrade will have separate smart meters for electricity and gas.
At their most basic level, the devices can measure energy consumption for the entire hours and display the actual cost to the consumer, based on current billing prices.
For those who have invested in newer smart appliances, such as fridges and washing machines, the meters will be able to record a more detailed breakdown of what each one is using.
In the case of electricity, users can also fit smart plugs which sit between the appliance and the power outlet gathering data on consumption.
That information is transmitted to the smart meter using the short range Zigbee wireless communication standard, before being relayed to British Gas' central system over a GPRS mobile data connection.
The company had previously carried out a limited programme of upgrades - installing 400,000 smart meters, although these lacked many of the technological innovations featured in the next generation devices, such as price display and wireless capability.
British Gas said it hoped eventually to offer sophisticated control systems on devices such as smartphones and tablets.
It also promised that data about power consumption would not be passed on to third parties for marketing use.
Related Internet Links
The BBC is not responsible for the content of external sites.