German bank card scammer jailed in UK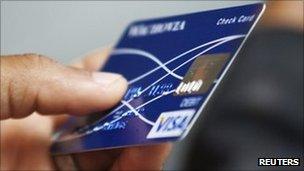 A German scam artist who attempted to bring new bank card scamming technology into the UK has been jailed.
Thomas Beeckmann was arrested at Victoria coach station in London after arriving from Holland in June.
Investigators said he was carrying enough specialist equipment to steal up to £150 million a year.
"This equipment showed levels of sophistication not previously seen by investigators in this country," Judge Anthony Morris said.
"It seems to have been a dummy run."
It is thought that Beeckmann was on his way to demonstrate the technology to potential buyers in the UK.
Prosecutors said he was found with 17 electronic circuits, three of which had already been adapted to use with Bluetooth wireless technology.
It meant that for the first time criminals could automatically get banking details as cards were fed into ATMs at banks or during purchases at stores.
This would allow data to be received on to a laptop or mobile phone up to 100 metres away.
The 26-year-old, a software expert living in Thailand, pleaded guilty to having the 17 circuits for use in fraud and failure to disclose passwords to encrypted data.
He has been jailed for a total of three years.