Who are the jailbreakers?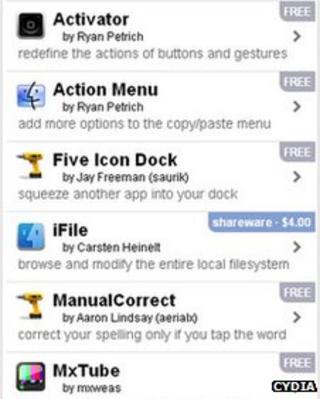 Computer hackers rarely show their faces in public, allowing the stereotype of the socially awkward loner sitting in the dark in front of a computer screen to flourish.
But the reality is rather different - at least when it comes to jailbreaking - a specialist type of hacking which involves removing the restrictions that manufacturers place on their devices and then changing the way they work.
Many of the world's best known jailbreakers converged on London last month to talk about their activities at a conference called MyGreatFest.
The event was entirely dedicated to the jailbreaking "scene", many of the attendees turned out to be articulate and highly charismatic entrepreneurs who simply use hacking as a learning tool and stepping stone to careers in business.
Tinkering with toasters
One such hacker is James Whelton, a smooth-talking 20-year-old from Cork.
Mr Whelton started tinkering with computers at the age of nine, and began programming soon afterwards. "By the age of 12 I was wiring toasters to computer motherboards and learning about voltages the hard way, and more recently I have been developing iPhone apps," he said.
His introduction into the world of jailbreaking was accidental, and happened when he won a pink iPod Nano.
"Basically I was on a plane and I was bored, so I just started tinkering with it and found something interesting," he explained.
He discovered a vulnerability in the iPod's software that could possibly be exploited to jailbreak the device. It was unusual enough that he wrote about it on his blog, before going to bed.
"When I woke up I was stunned to discover that the blog had been viewed over a quarter of a million times around the world. I was absolutely gobsmacked," Mr Whelton said.
Within a few days he was contacted by another hacker known as DarkMalloc - in reality a 16 year old from Wales called Joshua Tucker - who introduced Whelton to other hackers through internet chat rooms.
"There was me messing around with this iPod, and the next minute I had been brought in to the presence of some really clever guys: big names in the hacking scene like chronic and ih8sn0w," he said.
"It was pretty intimidating, but they are all extremely nice guys." Chronic - a teenager from the United States called Will Strafach - is the founder of a jailbreaking team called Chronic Dev while ih8sn0w, a 16 year old called Steven from Canada, is the developer of several well-known jailbreaking tools.
At this point Mr Whelton was spending seven to eight hours every night talking to other hackers on the internet while working on jailbreaking his iPod and doing school homework.
Inevitably, he said, something had to give. "I had final school exams coming up so I made sure our little community could continue without me, and then I left and hit the books."
Instead of taking up a place at university earlier this month, Whelton decided to use the exposure that his jailbreaking activities has earned him to help get investors for a software company called Disruptive Developments that he founded in June.
"I did my final exams on a Friday, and became a chief executive on Monday," he said. Mr Whelton has also set up a network of computer clubs called Coder Dojo, which runs free courses for children to introduce them to programming.
App boy
Aaron Ash is another hacker-turned-entrepreneur who appeared at MyGreatFest.
When Mr Ash was fourteen he got his hands on a calculator which he programmed to do his homework, and mowed people's lawns near his home in Peachtree City, Georgia, to earn money to buy the parts for a computer he built.
After teaching himself to program he worked on video games before getting an Apple iPhone and turning his attention to that.
The young Mr Ash wanted to write apps for his phone, but it turned out that at seventeen he was too young to sign up to Apple's official iPhone development program.
That left him with no alternative but to become a hacker and write apps for jailbroken phones. "This was actually even cooler to my mind, because it let me write programs that change the way the iPhone works - something that you can't do if you are an official developer," he said.
"Although making money was in the back of my mind, having fun was all that I was really interested in."
This involved programming five to six hours a night after school and all day at weekends - something his parents tolerated so long as his school work didn't suffer, Ash recalled.
Mr Ash started selling his programs, called Barrel and Multiflow, but at this point he came face to face with the darker side of the jailbreaking scene: when a device has been jailbroken it can run pirated copies of apps that hackers like Ash produce.
"My Barrel app is being used by three and half million people, but the proportion of people who actually paid for it is now about one in a hundred," he said.
Despite the rampant piracy Ash has earned over $100,000 from his applications - easily enough, he said, to cover his computer science education so far at the University of Georgia.
The problem he faces now is that he knows more than most of the teachers. "I am not really learning much and I think the time would better be spent in self-education," he said.
"I'm actually considering leaving uni and starting a software contracting company with a friend I met in the jailbreaking scene."
Poached
"Going straight" at an early age certainly seems to be the pattern in the jailbreaking world, and the scene has lost several of its senior figures to the lure of business.
George Hotz, the twenty two year old hacker known as Geohot who was responsible for programs that jailbreak Apple's devices as well as Sony's PS3, left the jailbreaking scene earlier this year to take up a full-time job with Facebook.
And Nicholas Allegra - the nineteen year old jailbreaking guru better known in the hacking world as Comex - also found an alternative career.
Apple was apparently so impressed with has programming skills that last month it persuaded him to abandon his jailbreaking activities and take up an internship at the company instead.
It seems that the old notion of poacher turned gamekeeper still exists, even in our technology oriented world.