Android serves up its Ice Cream Sandwich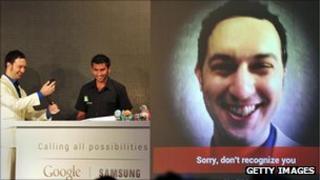 October could prove a key month in the smartphone wars. Last week saw the launch of the latest iPhone, next week we expect to see the first Nokia Windows Phone 7 handsets - and today Google has unveiled the latest version of its Android operating system.
At first glance, Ice Cream Sandwich looks as though it will set a new benchmark for what a clever phone should be able to do.
"Ice Cream Sandwich?" I hear non-Android users ask.
Each version of the operating system is named after a popular dessert, so you have to get used to bizarre statements like "People are at the heart of Ice Cream Sandwich", as Google's blog said this morning.
The delights of ice cream, and the Samsung Galaxy Nexus phone designed to showcase the system, were unveiled at an event in Hong Kong, and there's a YouTube video showing what it's about.
But when I spoke on the phone to Google's Hugo Barra I wanted to cut through some of the hype to what the software might tell us about the future of phones.
When I pressed him to nominate just three things that were new, here is what he chose:
The completely redesigned user interface. "Everything looks beautiful, consistent and more intuitive."
People. You've guessed it - "we've put people at the heart of Ice Cream Sandwich." By which I think he means that it's even easier to share content with your friends.
Photos. Without actually saying the camera on the Samsung Galaxy Nexus beat the iPhone 4S into a cocked hat, Mr Barra raved about its capabilities - very fast to react, multiple shots as you tap, face detection and so on.
I was more struck by what he had to say about two technologies that have been the next big thing in phones for ages without really taking off.
Talk to text
The first is Near Field Communication (NFC), which allows you to swipe your phone and make something happen - pay for a coffee, get into a sports stadium and so on.
NFC is a key feature of Ice Cream Sandwich, so that you can, for instance, tap two Android phones together and beam information to your friends.
Right now only a tiny minority of phones - including the new Nexus - have NFC onboard, but Hugo Barra believes Google will now succeed in making the technology go mainstream. "I'm extremely confident that it's going to happen," he said."We're pushing our hardware partners very hard to incorporate it."
Then there is speech recognition, which I wrote about yesterday.
The Android version has been given an upgrade making it easier to record lengthy chunks of text, see them appearing on your phone as you speak, and correct any errors.
"I've been a huge fan of speech to text for a very long time," says Hugo Barra. "But primarily for sending short messages. Today alone I've sent four medium length emails with my Galaxy Nexus using the new functionality and it's really cool to watch."
So will talking to your phone and making it do stuff become the norm?
"I've always thought it was a huge thing. Now that you have better mobile networks, users will become much more interested in how to use it. And it helps that three of the four major plaftforms, Android, iOS and Windows, all have it baked in."
Note that Blackberry was missing from that list.
The pace of innovation from the big smartphone players is accelerating, and some risk being left behind.
Android has played its latest card. Now let's see whether Nokia and Microsoft can respond next week.