Game designer Zynga plans $9bn stock market flotation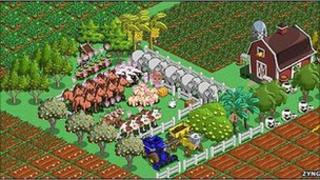 Game designer Zynga, which makes the highly successful FarmVille game for Facebook, has announced plans for a stock market flotation.
Reports suggest the firm could raise as much as $925m (£589m) from the listing.
The firm plans to sell 100 million shares, or 14.3% of the company, at $8.50 to $10 per share according to a regulatory filing made on Friday.
The IPO would value Zynga at as much as $9.04bn - one of the biggest US games companies by stock market value.
It would place the firm alongside industry giants Electronic Arts and Activision Blizzard.
The valuation is actually 30% less than Zynga's regulatory filing two weeks ago suggested its value would be - $14.05bn - meaning that the games maker cut its price to cope with volatile stock markets.
Unlike its competitors, Zynga does not charge for its games but makes money from selling add-ons such as virtual weapons, vehicles or buildings which can be used within the games.
Zynga earns over 90% of its revenue through Facebook according to its own figures.
In October the firm set up an initiative called Project Z which is designed to remove the firm's dependency on the social networking site.
Zynga has been in talks with Goldman Sachs and Morgan Stanley since June to manage the listing process on the US tech exchange, NASDAQ.
The firm has already reduced its expectations for the IPO after recent listings of other internet firms performed less well than planned.
Shares in the Social networking site LinkedIn fell below their May offer price after a 180 day lock-up period.
Discount voucher website Groupon listed on the Nasdaq exchange at the beginning of November and its shares are now trading below its initial offer price.
On Friday, the Office of Fair Trading (OFT) launched an investigation into Groupon after the firm broke UK advertising regulations 48 times in 11 months.