'Hacking attacks' hit Russian political sites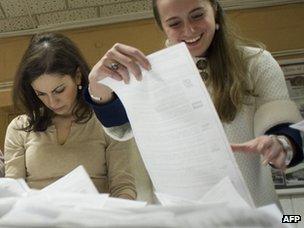 A series of alleged hack attacks have struck political sites in Russia during the country's parliamentary elections.
Radio stations, election monitors and newspapers said they came under sustained attack.
The sites' owners said they were bombarded with data in an attempt to overwhelm their computers and knock them offline.
Some of the organisations involved have blamed the assault on state-sponsored "criminals".
Over the weekend Russians voted in elections that determined the make-up of its lower house, or Duma, for the next five years.
In the run-up to voting and on the day itself, many organisations critical of the policies of the ruling party said they had suffered attack by hackers.
One of the hardest hit seems to have been the election monitoring group Golos, which said it had come under a "massive DDoS (distributed denial of service) attacks".
A distributed denial of service attack is one in which a website is hit with many thousands of requests for data. Unless the flood of requests is halted, sites can be knocked offline.
On voting day, Golos was compiling a map of "election violations" which detailed places where irregularities in votes were being recorded.
Despite the attacks, Golos said it had been able to log about 5,300 complaints alleging election violations.
Golos head Liliya Shibanova said mounting the attacks would have been a "very expensive operation".
She said: "It's a big organisation with plenty of means that must have done it."
The Moscow Echo radio station, opposition newspaper New Times, political commentary site Slon.ru and daily business paper Kommersant also suffered the attentions of politically motivated hackers.
Moscow Echo editor-in-chief Alexei Venediktov tweeted: "The attack on the website on election day is clearly an attempt to inhibit publication of information about violations."
The Russian arm of the Livejournal blogging site had also been intermittently available during the week before voting day as it came under repeated DDoS attacks.
Anton Nossik, media director of LiveJournal owner SUP, alleged that the perpetrators were criminals, "probably fattened by the federal budget".
Most of the attacks were directed at groups and media organisations that oppose the Putin government, but some Pro-Kremlin groups were also targeted.
Youth activists said their site which logged election violations by opposition parties had also come under fire.
Related Internet Links
The BBC is not responsible for the content of external sites.