Tweets cause US death row conviction to be overturned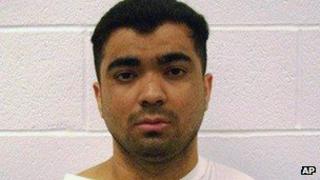 A juror's tweets have caused the murder conviction of a death row inmate to be overturned by a court in the US.
Arkansas Supreme Court judges said it was inappropriate for a juror to have posted his musings online.
They have asked a panel to consider whether jurors' access to mobile phones should be limited during trials.
The review coincides with a warning from England and Wales's Lord Chief Justice that the internet threatens the integrity of trials.
Bad coffee
Erickson Dimas-Martinez was convicted of murder in 2010 for shooting and robbing a teenager, Derrick Jefferson, after a party in Arkansas four years earlier.
He had been due to be put to death by lethal injection.
Mr Dimas-Martinez's lawyers appealed against the conviction after Randy Franco tweeted his thoughts despite the judge's instructions that jurors must not post comments on the internet or discuss the case on their mobiles.
Mr Franco tweeted: "Choices to be made. Hearts to be broken... We each define the great line."
Mr Franco later clarified that "define the great line" was a reference to an album by an American Christian metalcore band called Underoath.
Other tweets sent included: "The coffee here sucks" and "Court. Day 5. here we go again".
Not appropriate
The judge at the original circuit court trial picked up Mr Franco on his actions shortly after one of the tweets was sent.
At the time Mr Franco argued thathe had not given any specificsabout the case and said the tweets did not suggest he had decided his verdict before hearing all the evidence.
"I'm waiting for the other 11 to [jurors] to help me come to a conclusion... I have not seen death in my life, like, firsthand. So the talk of death is a little uncomfortable just because it's an unknown - it's an unknown area for me," Mr Franco told the judge.
The circuit court judge denied a motion for a new trial on the basis that Mr Franco "never tweeted specifics about the case".
However the state Supreme Court has reversed that decision.
"Because of the very nature of Twitter as an... online social media site, Juror 2's tweets about the trial were very much public discussions," wrote Associate Justice Donald Corbin.
"Even if such discussions were one-sided, it is in no way appropriate for a juror to state musings, thoughts or other information about a case in such a public fashion."
One of Mr Dimas-Martinez's lawyers said the case was likely to bring in new rules.
"It's not about your right to tweet or be on Facebook," Janice Vaughn said.
"It's about protecting the right of the person who may end up behind bars or end up losing a significant amount of money in a civil case."
Mr Dimas-Martinez's lawyers had also complained that another juror had fallen asleep while the prosecutor had been presenting the evidence.
The Supreme Court has recommended a retrial. A spokesman for the attorney general said the state had not decided its next step.
Facebook failure
The news follows a warning from the Lord Chief Justice of England and Wales that technology was making iteasy for jurors to communicate with others.
"We must be astute to preserve the integrity of jury trial and the jury system," said Lord Judge.
Earlier this year, a Manchester woman became the first juror to be jailed for contacting a defendant via Facebook.
Because other defendants were still on trial, the judge decided to discharge the jury, and the case collapsed.
Joanne Fraill was sentenced to eight months in jail for contempt of court.