Apple founding papers sold at auction for nearly $1.6m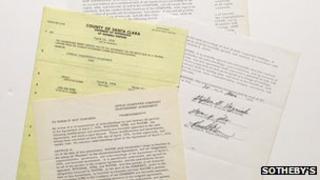 Apple's founding papers have been sold at auction for $1,594,500 (£1.03m).
Sotheby's had estimated the three typed partnership agreements would sell for between $100,000 and $150,000.
The documents were signed by the firm's three co-founders, Steve Jobs, Steve Wozniak and Ronald Wayne on 1 April 1976. The papers include an amendment added 11 days later when Mr Wayne quit.
The buyer was Eduardo Cisneros, chief executive of Cisneros Corporation.
His Miami-based firm owns stakes in a range of businesses covering real estate, TV production and telecommunications.
Sotheby's said five other bidders took part in the sale.
The sale price includes a 12% buyer's premium paid to the auction house Sotheby's for holding the auction. That values the documents themselves at $1.35m.
The third man
The seller was Wade Saadi - founder and chief executive of the IT recruitment firm Pencom Systems.
He bought them from Mr Wayne in 1994 for "several thousand dollars".
The documents reveal that Mr Wayne was paid $800 when he decided to hand back his 10% stake in the firm. He later received a further $1,500.
Mr Wayne played a crucial role in the firm's creation, helping Mr Jobs convince his friend Mr Wozniak to leave Hewlett-Packard and set up the new company.
He was given a 10% stake in the company so he could act as a tie-breaker if the other two men had a disagreement.
However, Mr Wayne left the company after less than a fortnight because he was worried that if it failed his assets could be seized by Apple's creditors.
Instead he returned to the computer games maker, Atari, where he had first met Mr Jobs.
When interviewed by the Daily Telegraph last year, Mr Wayne saidhe was happy with his decision, despite the outcome.
"I felt the enterprise would be successful but at the same time there could be bumps along the way and I just couldn't risk it," he said.
"Would I like to be rich? Everybody would like to be rich but I couldn't keep up the pace. I would have been wealthy, but I would have been the richest man in the cemetery."
The auction is the latest evidence of the public's interest in Apple's history.
Earlier this week Amazon revealed that the biography of Steve Jobs was its best-selling title of 2011. The book was released in October following the death of the company's co-founder.