Ofcom: UK lags on fast broadband but loves to shop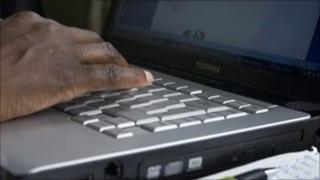 Only 4% of homes in the UK are taking advantage of superfast broadband, according to a report from Ofcom.
Despite this, UK surfers remain very connected, shopping more online than any of their European counterparts.
Britons also get a good deal on their net and phone services, with only France offering cheaper prices, according to Ofcom.
But the UK remains in danger of falling behind when it comes to next-generation mobile services.
Ofcom's sixth international communications report compared the UK with nations around Europe and the world.
"Across the globe people are embracing e-commerce and social media with enthusiasm," said Ofcom chief executive Ed Richards.
"Our research shows that the UK communications market is performing well with prices, the range of services and innovation standing up well against international benchmarks."
Slow-speed Europe
It found that superfast services - defined by the regulator of speeds above 24Mbps (megabits per second) - remain more popular outside Europe.
In Japan 40% of homes take advantage of such services, and in the US it is around 10%.
But this drops dramatically in Europe. The UK is doing better than Germany, Spain and Italy which have only 3%, 2.2% and 1.5% respectively.
UK surfers are also keen online shoppers, according to the report - 89% claimed to have visited online shops, with 79% making online purchases during 2010.
UK householders are getting a good deal on net services, the research found. A typical basket of communication services - fixed-line phone, mobile, broadband and pay TV - can cost from £114 a month, second only to France at £79.
The report found that social networking was popular around the globe, with three-quarters of those surveyed visiting a site such as Facebook, the majority of these on a daily basis.
It is most popular in Italy, with 91% using social networking sites compared with 79% in the UK.
The UK does well on net TV, thanks largely to the availability of services such as the BBC's iPlayer. More than a quarter of Britons watch TV online every week, higher than any of the other countries surveyed.
Small-screen shopping
Smartphone growth continues apace with ownership nearly doubling in the UK between February 2010 and August 2011 and take-up higher than in any other European country.
UK citizens are also more likely to access news content and social networking sites on their mobiles than any other nation.
Where the UK is in danger of slipping is with the availability of next-generation mobile services which will make mobile surfing much faster.
Rows among mobile operators mean the auction of the airways to facilitate such services is unlikely to happen until the second half of 2012, with services not available until the following year, Ofcom revealed.
Some European countries have already held their 4G spectrum auctions.
"There are issues which we will monitor carefully, such as the future rollout of 4G mobile services," said Mr Richards.