Sky blocks access to Newzbin site after MPA move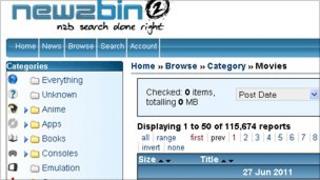 Sky has become the second internet service provider (ISP) to block the Newzbin 2 website in the UK after legal efforts by the Motion Picture Association.
Newzbin's members-only pages provide links to pirated films and music.
Sky said it had actedafter receiving a court orderdemanding it remove access to the site.
The broadband provider's action follows a similar move by BT in November. The MPA says it wants other ISPs to follow.
A Sky spokesman said: "Sky is working with the rest of the industry to implement a sustainable framework for tackling piracy.
"When presented with clear and robust evidence of copyright theft, we will take the appropriate action in respect to site blocking, as we have with Newzbin 2."
The MPA has vowed to implement similar blocks against other sites offering links to pirated films.
It has described Newzbin as an organisation "whose business model is based on wholesale copyright infringement".
However, the group behind Newzbin previously told the BBC that most of its active members in the UK had downloaded workaround software to overcome BT's Cleanfeed block.
Virgin Media told the BBC that it would obey the law, but would not take action over the matter until it had received a court order of its own.
"As a responsible ISP, we will comply with any court order addressed to us but strongly believe such deterrents need to be accompanied by compelling legal alternatives such as our agreement with Spotify, which gives consumers access to content at the right price," a spokesman told the BBC.
A spokeswoman for TalkTalk added: "We are not in principle against blocking, provided a court decides. We have received no such order in respect of Newzbin."