Amazon Kindle releases the Queen's Christmas speech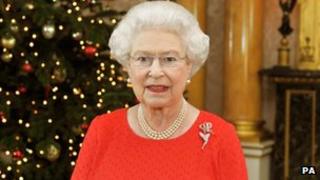 The Queen's Christmas speech has been released as a free download for Amazon's Kindle e-book reader following its broadcast.
The retailer secured access to the transcript after approaching the Royal Household with the proposal.
The arrangement is an e-book exclusive although the text was also made available at Facebook,the BBCand theRoyal Household's official website.
Book industry watchers described the move as a "coup" for Amazon.
In addition to this year's speech Kindle owners are able to download the Queen's previous Christmas messages dating back to 1952, the year of her accession to the throne.
"The Royal Household is content for other organisations to take this content and make it available on as many other platforms as possible as long as the content is not altered or presented out of context," a spokeswoman at Buckingham Palace told the BBC.
"We would like The Queen's Speech to be broadcast or read as widely as possible, and allowing Kindle to make the text available is just another example of this."
Tech-friendly
The Royal Family has long taken advantage of technology to communicate with its subjects.
In 1878 Queen Victoria tried out Alexander Graham Bell's invention, the telephone. The Queen later wrote in her diary: "A Professor Bell explained the whole process which is most extraordinary."
In 1918 the Monarchy used lithography to reproduce a letter from George V which was then distributed to returning prisoners of war after World War I.
In 1932 King George V made the Royal's first Christmas broadcast via radio. Five years later the Coronation of George VI became the first televised outside broadcast.
In 1957 the Queen made the first live Christmas broadcast on television. Nearly half a century later, in 2006, the speech was podcast for the first time. Then in 2007 it was shown live on YouTube via a dedicated Royal Channel.
This year marked the 60th Royal message released on Christmas Day. All have involved broadcasts with the exception of 1969 when a written message was released.
Marketing
The arrangement with Amazon marks the first time the speech has been made available in e-book form.
"Millions of people across the UK, and the world, wait with anticipation to hear The Queen's Christmas broadcast and we're delighted to be able to make transcripts of Her Majesty's annual addresses, past and present, available to download for free in less than 60 seconds," said Gordon Willoughby, director of Kindle EU.
Although Amazon is not charging for the service, technology watchers say it may still benefit the firm's bottom line.
"It gives people a reason if they just got a Kindle as a present on Christmas morning to work out how to download an e-book that afternoon," said Stuart Miles, editor of Pocket-Lint.
"If they like the experience they will download more. It's also a great way to turn people into evangelists for the system as they will have a reason to show it off to friends on Boxing Day, potentially leading to more sales for Amazon."
'Smart move'
Book industry watchers were also impressed by the arrangement.
"I think it is an exceptional coup and not surprising for a business like Amazon to do that," said Philip Jones, deputy editor at trade newspaper The Bookseller.
"But I hope that other e-book sellers such as Waterstones and Kobo quickly phone up the Palace so they can compete because it seems an otherwise unfair advantage for Kindle to have. But it's a smart move nonetheless - good for them."
The Royal Household confirmed it was not ruling out similar deals with others.
"We would be happy to discuss a similar arrangements with other outlets," a spokeswoman for the Palace said.
"We have chosen ones that suits us, but if other companies approached us we would be willing to consider those as well."
The spokeswoman added that it was not public information if any members of the Royal Household owned a Kindle or other e-book reader.
The Queen's Christmas message can beviewed on iPlayer within the UKuntil 1 January 2012.