Tech to look out for in 2012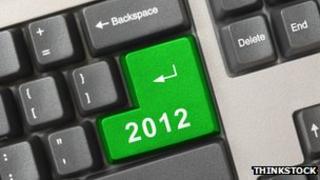 What will be the important consumer technology trends of 2012? As the year gets underway, I'm heading to the West Coast to find out. The Consumer Electronics Show starts in Las Vegas next week - always a great place to see what's new in hardware, and on my way to the show, I'm visiting some of the software giants of Silicon Valley, as they gear up to play an ever bigger role in the media.
Here are just three of the trends I'm hoping to pursue in the United States:
TV and the internet get married
Television and the internet are made for each other - the most popular entertainment medium and the best way of distributing content around the globe should make for a perfect partnership. At least that's what we've been told for something like the last 15 years but many of the attempts to hook TV up to the internet and make beautiful music have failed to impress a mass audience.
But this is the year that both the hardware and software giants think it will all happen. In Silicon Valley, I'm hoping to find out whether Google's plans to be big in television after an uncertain start are about to gather momentum.
In Las Vegas the likes of Sony and Samsung will be keen to show that it is they, not the software giants, who will determine the way we consume television over the next decade. It looks as though just about every television that goes on sale from now on will have some means of connecting to the internet.
And then there's Apple, rumoured to be planning to launch its own televisions in 2012. Somehow, though, it doesn't look likely that we will be invited down to Cupertino for a sneak preview of the iTV.
New User Interfaces
Suddenly, there is a revolution in our relationship with gadgets and computers.
The old computing model of keyboard, mouse and screen has already seen some serious challenges in the last couple of years, as smartphones and tablets have quickly established that touch is the new way to interact with devices.
Then there is Microsoft's Kinect, using gestures and sound to control a game console and now video services. And Apple's Siri voice assistant heralds a wave of innovation from the voice recognition industry, promising to move to the mass market in 2012.
I'll be looking and listening for devices which show off these new interfaces - and prove that they can be more effective and attractive than the old methods.
3D Printing
It's difficult to exaggerate the excitement in geeky circles about 3D printers, simple machines that allow anyone to take a digital design and manufacture all manner of objects from their kitchen table. There is heady talk of a new industrial revolution and the total personalisation of consumer goods, as 3D printing becomes ever more affordable.
I'm hoping that the Consumer Electronics Show will give us some evidence of whether this is a phenomenon with quite as much potential as its backers claim. If it is, there should soon be 3D printers from major manufacturers at your local electronics store. And, as they can reproduce themselves, we could be knee deep in them by 2013.