London 2012: Olympics to create 'record' wireless spectrum demand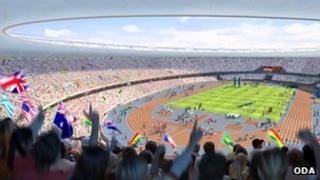 The London Olympic and Paralympic Games are likely to require up to 20,000 separate wireless frequency assignments, according to the communications regulator Ofcom.
The organisation says that isnearly double the number of licencesthat it granted for the city over the course of last year.
The body says that new broadcast technologies are helping drive demand.
Ofcom plans to finalise its Spectrum Olympics Plan by early February.
The regulator says it approved 12,505 applications in 2011.
It has already received 10,000 requests covering the seven-week period of the Games, but expects that number to rise thanks to the event being "the biggest media event in history".
Ofcom says demand will come from a variety of sources:
Wireless television cameras used to provide close-up shots of the competitors
Wireless microphones offering broadcasters a range of sound sources
Location, timing and scoring technologies
Sports commentaries offered to spectators
Communications systems for broadcasters, security personnel and the emergency services
Spectrum blueprint
Ofcom says it has been working on a plan to provide the required capacity since 2006.
It involves borrowing spectrum from the Ministry of Defence and making use of spectrum freed up by the switch-off of analogue TV signals in the capital.
London's analogue channels are due to be turned off on 18 April 2012 as part of the move to digital transmissions. The frequencies will later be auctioned off to provide 4G mobile services.
"The airwaves that are being freed up as we move from analogue to digital TV will provide useful capacity for wireless demand at the Games," an Ofcom spokesman told the BBC.
"However, this is just one area where we will be securing additional capacity. Other areas include borrowing spectrum from public sector bodies and ensuring that capacity is used as efficiently as possible. Combined, these initiatives will provide the extra capacity that is needed - however we are not dependent on any one area."
Ofcom says it has built a "state-of-the-art" spectrum assignment system to prevent interference between the variety of users, but adds that it it deploying about 90 radio engineers to deal with any cases that do occur.
Further detail will be provided when the plan is finalised "within the next few weeks".