Disability app designed by London terrorism survivor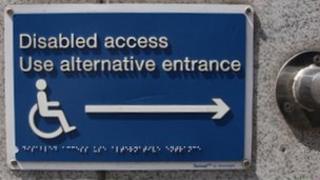 A severely injured survivor of the 7/7 bombings has created a smartphone app to help people with disabilities travel around London more easily.
Daniel Biddle lost both his legs, spleen and left eye after a bomb exploded on a tube train in July 2005.
His Ldn Access app details step-free access, ramps and usable toilet facilities at thousands of venues.
Mr Biddle says he created it after finding that his wheelchair had made many venues become inaccessible.
"What happened on 7/7 robbed me of the ability to just go anywhere," he said.
"I can think of numerous instances where I've stopped somewhere to use the toilet or gone to a restaurant only to find it is impossible. There is such a lack of useful information for people in a wheelchair, those with learning difficulties or people with a visual or hearing impairment."
Icon controls
Venues covered by the program include hotels, theatres, restaurants, pubs and attractions.
The app was created with the help of Mr Biddle's friend Tobi Collett.
It works by using location-based technology to pinpoint where a user is, providing intuitive icons and simple terminology to make their choices from, breaking down bigger categories such as restaurants into smaller specific ones such as Chinese or Indian.
Tapping the icons brings up the information needed to make an informed choice as to whether a destination will meet the needs of the user's disability.
Mr Biddle said: "We made the app very intuitive because someone with dexterity problems, or arthritis in their hands, may not be able to type out long words. It's just a simple push on a simple icon."
The app also contains a section devoted to the Olympics, with accessibility information for each venue and nearby places to visit.
It also works offline, meaning even being underground on the Tube is no barrier to knowing where it is possible to get off easily.
Improved access
The two friends first came up with the idea nearly a year and half ago, after which they provided the necessary information to a professional coder.
"We had to identify which venues we wanted to list based on location and accessibility, then use each venue's website and a telephone access audit where necessary," said Mrs Collett.
"To double check we then took to the streets and visited random locations listed in the app."
The program differs from other related apps on the market, including Parking Mobility and Toilet Map, because it is not limited to specific tasks such as where to find a disabled parking bay or an accessible public lavatory.
Instead there it offers a wider range of access information covering everything from bingo halls to the Wembley Arena.
The Leonard Cheshire Disability charity is already involved with another app - Do Some Good - which allows people to rate the accessibility of their local High Street, but it welcomed the idea of other developers offering associated software.
"A directory of accessible places is a very useful tool. 40% of disabled people that we surveyed reported they'd had difficulties using shops and services in the past year," said Guy Parckar, the organisation's campaigns manager.
At present Ldn Access only works on Apple's iOS devices after becoming live last night on the tech firm's App store.
But Mr Biddle and Mrs Collett hope to reinvest money earned from downloads to create versions for Blackberry, Android and Windows Phone, as well as similar programs for other cities across the UK.
"With this app we hope to use the latest technology to change people's mindsets and show how the disability isn't the problem, the lack of access is the problem," said Mr Biddle.
"Technology can be great for improving independence and we hope this allows the disabled to decide what they want to do, and just go out and do it."