Legal help offered to Megaupload users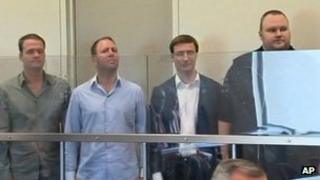 Users affected by the closure of Megaupload have been offered legal help to retrieve their data.
A website has been set up to assist US-based users of the site to contact the Electronic Frontier Foundation in order to start co-ordinated action.
The EFF has criticised the US government for acting "without warning" when it closed the site this month.
It is understood that the data, which is shared across many servers globally, will be held for at least two weeks.
The support site -megaretrieval.com- has been set up by storage company Carpathia, which provides hosting services for some of Megaupload's content.
"Although Carpathia does not have, and has never had, access to the content on Megaupload's servers, the hosting provider wants to assist lawful users of the Megaupload service by promoting EFF and its non-profit legal services," Carpathia said in a press release.
Chief marketing officer Brian Winter added: "We support the EFF and their efforts to help those users that stored legitimate, non-infringing files with Megaupload retrieve their data."
Julie Samuels, staff attorney for the EFF, said it was important that Megaupload users' voices were heard.
"EFF is troubled that so many lawful users of Megaupload.com had their property taken from them without warning and that the government has taken no steps to help them," she said.