Ofcom reports lopsided gains in UK broadband speeds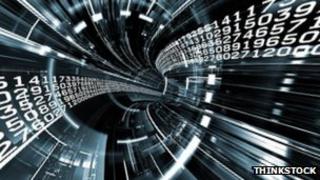 The UK's average home download speed is on the rise, but it could be even faster if more users upgraded at minimal cost, according to Ofcom.
November's average broadband speed was 7.6 megabits per second, up from 6.8Mbps in May, says the regulator.
Upgrades offered by Virgin Media and BT helped boost the figure.
Ofcom says many of the 42% of homes which subscribe to speeds of 10Mbps or less would benefit from switching deal or provider at little or no cost.
The 22% headline speed bump is a notable improvement, according to the price comparison website broadbandchoices.co.uk.
"In reality, the average speed increase of 1.4Mbits will save you around 6 minutes when downloading a 2 hour film," said Michael Philips, the firm's product director.
"This doesn't sound a lot but faster connections improve your general web-surfing experience and are definitely worth the investment, for example if more than one person shares the connection in a household."
Ofcom noted that the price difference between many of the so-called super-fast services and current generation connections was "relatively small".
It said some Plusnet customers could roughly double their promised speed to "up to" 40Mbps by swapping to a service with the firm that cost £5 more a month.
It said TalkTalk clients could enjoy a similar gain by paying their provider an extra £10 a month, while one of BT's deals offered an equivalent speed bump at no extra charge.
Marketing restrictions
The figures are contained in Ofcom's sixth study into residential fixed-line broadband performance.
It is the first report since internet service providers were told they would only be able to claim a maximum speed if it was available to 10% of their customers.
The new rules come into effect in April. Using them as a guide Ofcom provided a breakdown of its figures saying that:
6Mbps was the average speed for services advertised as "up to" 8Mbps
14Mbps was the average speed for connections advertised as "up to" 20/24Mbps
The regulator said speed upgrades offered by Virgin Media and BT accounted for most of the period's gains.
Virgin Media's "up to" 50Mbps cable deal was the fastest surveyed offering average download speeds of nearly 49Mbps. The firm's 100Mbps service was not included in the research.
BT's roll-out of FFTC (fibre to the cabinet) technology helped boost its statistics. The move involves running fibre from its exchanges to street cabinets which are then linked to homes by normal telephone lines.
Since the cabinets are closer to most homes than the exchanges, users enjoy faster speeds.
It has led to the creation of the firm's Infinity offer which promises "up to" 40Mbps. The service was found to provide an average speed of 36Mbps.
'Disappointing'
The study said that other ISPs "did not change significantly" over the six months.
Orange's "up to" 20Mbps ADSL service fared worst out of the maximum-speed offers surveyed. It was found to provide average download speeds of 7.2Mbps.
The firm said it believed the next report would show an improvement.
"It's disappointing to see the outcome of this survey, although it was not unexpected as it was conducted last year as we were moving a large number of our customers to our new broadband network," a statement said.
"Since this time, we have completed the migration and the vast majority of our customers have seen a significant improvement in the download speeds they receive."
The news site thinkbroadband.com said the research also highlighted the need for investment in out-of-town connections.
"Rural areas have an average of 3.3Mbps versus urban at 8.8Mbps," said the firm's editor Andrew Ferguson.
Ofcom says it plans to publish the next report in July, using data collected from tests run in May.
Summary of data speeds sampled by Ofcom in November 2011: