Apple, Google move to tackle app store issues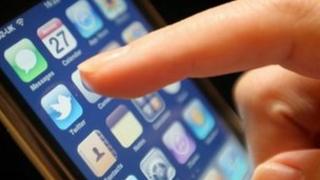 Apple has warned that any developers found to be artificially inflating the rankings of apps will be kicked off the App Store.
It follows a developer blowing the whistle on the practice of using automated PCs - known as bot farms - to push apps up the charts.
The anonymous developer said that it was common practice to pay bot farms to inflate rankings.
Meanwhile, Google's attempts to clean up its app store have been questioned.
Shocked
Apple faced fresh scrutiny over how its apps are rankedfollowing an anonymous posting to the Touch Arcade gaming forum.
In it, a developer claimed that an unnamed firm had offered to give his app a top 25 ranking in return for $5,000 (£3,144).
He said that the firm had listed some of its other clients, and openly described its business model.
"I was totally shocked when I heard that there were eight apps in the top 25 were all promoted by them.
"He said he had outsourced someone to build him a bot farm and the bots will automatically download his clients' apps and drive up their rankings," the developer wrote.
Bots are pieces of software that run automated tasks on the internet.
It prompted plenty of news chatter about bot farms and forced Apple to clarify its position.
In a statement on its developer forum, Apple said: "Once you build a great app, you want everyone to know about it. However, when you promote your app, you should avoid using services that advertise or guarantee top placement in App Store charts.
"Even if you are not personally engaged in manipulating App Store chart rankings or user reviews, employing services that do so on your behalf may result in the loss of your Apple Developer Program membership."
Real people
Apps are now big business. A recent study by tech industry network Tech Net suggested that since 2007, the "app economy" had created 466,000 new jobs in the US alone.
Getting a top 25 position in the rankings means more downloads for an app and more cash for the developer.
It seems to have spawned an industry dedicated to boosting rankings.
One firm, Top Deal Apps, has admitted the practice but says that it uses people rather than bot farms.
Speaking to gaming website Pocket Gamer, a spokesman for the firm said that it employed more than 200,000 users in the US with iOS devices and iTunes accounts.
"Each time we take a new case from an app developer, our users will be notified to download the certain app during the required time period. After the verification, the users will get money for this download," he told the online magazine.
Bouncing back?
As Apple fights its own issues, Google is determined to make its own app store more secure. Android apps have gained a reputation for attracting malware because of the more open way they are developed and the lack of pre-screening.
Last week the search giant revealed that it had been using a malware checker dubbed Bouncer for the second half of 2011, and its use had led to a 40% decrease in the number of potentially malicious apps on Android Market.
Security firms welcomed the step towards better security but warned that it might not be enough.
Writing on the Bitdefender Blog, security expert Catalin Cosoi said there it could be a problem that Bouncer only scanned the Android market.
"There are several other websites from where Android users can install applications. In fact, most malicious applications we discovered were actually hosted on third-party markets and not directly on Google's (Android) Market," he said.
Bouncer also only emulates apps uploaded on the Android market, he said.
"There is a high chance that we'll see apps behaving correctly when used on a simulator and turning malicious when used on the mobile device," he added.