Microsoft and Cisco back Apple's essential patents call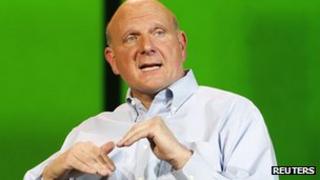 Microsoft has pledged not to block rivals' products if they infringe patents it owns which are deemed "essential" to an industry standard.
Such patents cover intellectual property rights without which widely used formats - such as MP3 sound files or JPEG photos - could not work.
Microsoft's action follows aleaked Apple letter.
The iPhone-maker wrote to European officials saying that all tech firms should sign up to a similar commitment.
The moves put the firms at odds with recent acts by Motorola Mobility and Samsung.
Microsoft lawyer David Heinerwrote in a blogthat the internet only worked because firms had agreed to license their inventions to each other.
"Would you buy a smartphone, an iPad or a personal computer that couldn't play video or connect to wireless networks?" he asked.
"Probably not. This is why antitrust enforcers have taken a keen interest recently in patent acquisitions and attempts by patent holders to block competitors from shipping products that implement industry standards."
The European Commission is investigating whether Samsung distorted competition in the mobile device market by failing to license key technologies to rivals because of payment disputes. The firm attempted to sue Apple last year, but a Dutch court threw out its claim as being too expensive.
Microsoft and Apple's call has also received backing from the networking equipment maker Cisco Systems.
The Foss patents blogpublished a letter from the firmon Wednesday in which it called on the European Telecommunications Standards Institute (ETSI) to adopt the proposals set out in Apple's letter.
'Extreme position'
The move may also put pressure on Google, which is in the process of taking over Motorola Mobility.
Last week Motorola temporarily blocked several iPads and iPhones from sale in Apple's German online store after winning a lawsuit based on essential patents.
A letter written by Google lawyer Allen Lo promised that it wouldcontinue to license Motorola's essential patentsafter its acquisition.
However, he signalled that the search giant was likely to continue a policy of demanding "a maximum per-unit royalty of 2.25% of the net selling price for the relevant end product".
Florian Mueller,author of the Foss Patents blogwho does consultancy work for Microsoft, wrote that "2.25% of the whole selling price is absolutely out of step with the concept of Frand (essential patents) and with industry practices".
He noted that if a BMW car was to use one of Motorola's "essential" licences, the phone-maker could potentially demand thousands of pounds from each sale.
"It looks to me like Google is taking an extreme position now so it can easily make concessions going forward."
Counter-attacks
However, Andrew Alton, a lawyer at the law firm UDL Intellectual Property, took issue with this analysis.
"Google's letter seems to make clear that they consider 'relevant end products' to be handsets and tablets - the key word here is 'relevant' and it seems far fetched that Google would intend that to cover other products like cars," he told the BBC.
Another London-based patent lawyer, who asked not to be named since his company acts for several of the firms involved, added that it would be difficult to get every technology firm to sign up to a rule change on essential patents.
He said some firms would be unwilling to do that as they would lose a means to counter-attack Microsoft and Apple lawsuits involving non-essential patents.