Microsoft's Sinofsky reveals Windows on ARM ambitions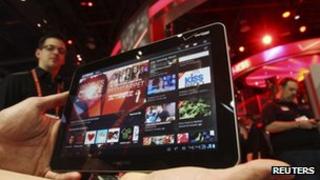 Microsoft has revealed more details of Windows on ARM (WOA), a version of its planned Windows 8 operating system which will run on ARM-designed chips.
The chips are widely used in smartphones and mobile devices because of their performance and low power consumption.
Microsoft hopes WOA will help it compete with iOS and Android tablets.
However, analysts have warned Microsoft faces "huge hurdles" in making the product a success.
Microsoft hopes WOA will help it exploit the growth in mobile devices using ARM chips.
Cambridge-based ARM Holdings licenses its designs to manufacturers.
So far, 20 billion chips based on its designs have been shipped worldwide.
Big commitment
In an 8,600 plus word blog post Windows president Steven Sinofsky detailed the "energising and daunting"challenges in developing Windows on ARM.
Analysts said the post was evidence of the importance of the technology to Microsoft.
"One of the clues we get from this post is that Microsoft is very much all-in in terms of pushing this, they have no intentions of letting this one fail, it's not a punt," said Chris Green of the marketing firm, Davies Murphy Group.
But the post also underscores some of the difficulties Microsoft will face.
Windows 8 is intended to provide a common user experience and a common operating system across devices from PCs to tablets - "In the home, in the office, and in your pocket," Mr Green said.
But differences between ARM chips and other chips, such as those produced by Intel, have forced Microsoft to produce a separate operating system for ARM devices.
Files such as documents, spreadsheets, sound and video will be cross compatible - but applications written for other version of Windows will not automatically work on WOA, a potential challenge for consumers.
"Whilst there will be two types of Windows 8 machine out there that will look identical, under the hood they will not be interchangeable.
"Applications you've brought for your Windows 8 desktop which will be running an Intel chip, for example, won't run on your ARM-based Windows tablet, and that's going to create a lot of confusion in the short-term," Mr Green told the BBC.
Huge hurdles
Designing for ARM brings other challenges. Each manufacturer licensing ARM designs, Mr Sinofsky wrote, "takes a different approach to selecting features, making product trade-offs, and designing the complete silicon package."
Because of the potential diversity of ARM-licensed chips, WOA requires close co-operation between manufacturers and Microsoft.
"There are just huge hurdles, they have to work with hardware makers not just dictate to them, as you could argue they have done in the past," said Mr Green.
However, despite the challenges, in Mr Green's view the incentives for Microsoft were clear.
"ARM chips are seen as the best solution we have in the world for mobile devices, because they strike that balance between power and performance," he said.
ARM referred questions about Windows to Microsoft, but told the BBC "Windows 8 represents a journey we are taking together with Microsoft. We are enthusiastic about the opportunity it represents".