Social apps 'harvest smartphone contacts'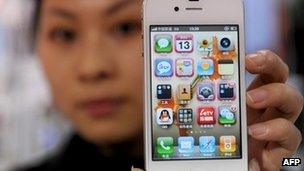 Twitter has admitted copying entire address books from smartphones and storing the data on its servers, often without customers' knowledge.
Access to the address book is enabled when users click on the "Find Friends" feature on smartphone apps.
Two US congressmenhave written to Appleasking why the firm allows the practice on its iPhone, as it contravenes app developer guidelines.
Twitter has said it will update its privacy policy to be more explicit.
However, he noted separately that it was an "industry best practice" to upload or import address book information.
iPhone apps by social sites including Facebook, FourSquare, Instagram, Foodspotting and Yelp arealso reportedto access the address book.
However, Facebook has told the BBC that its app will only upload address information if the user opts to sync their contacts with the website.
Critics have noted that these apps are all available for download from Apple's iTunes store, even though the practice of copying address book contacts without prior consent appears to violate its user guidelines.
The Apple guidelines say: "Apps that read or write data outside its designated container area will be rejected."
They add: "Apps cannot transmit data about a user without obtaining the user's prior permission."
Social networks have said that data taken from smartphones - which includes names, phone numbers and email addresses - is used only to identify friends who used the same service, and notify the user.
But sometimes the data appears to be taken without first informing the user, or indicating how long the information will be saved for.
Twitter said it would update its app in the wake of the disclosure, and clarify its privacy policy for users.
"We want to be clear and transparent in our communications with users. Along those lines, in our next app updates, which are coming soon, we are updating the language associated with Find Friends - to be more explicit," Twitter spokeswoman Carolyn Penner said.
Currently, Twitter tells users that it "may customize your account with information such as a cellphone number for the delivery of SMS messages or your address book so that we can help you find Twitter users you know".
Twitter informs iPhone users that it will "scan your contacts for people you already know on Twitter".
However, the Los Angeles Times reported that the app in fact uploads every address book contact and stores it for 18 months - something not made clear by the app.