Megaupload founder extradition papers filed by US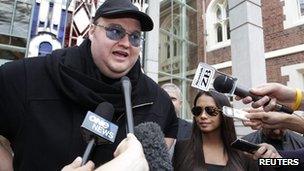 A formal request for the extradition of Megaupload's founder has been filed in New Zealand by the US government.
Prosecutors had had 45 days to make the application following Kim Dotcom's arrest in January. The papers also call for the extradition of three other senior members of Megaupload's staff.
The men are accused of helping make it possible for users to illegally download copyrighted material through their file-sharing site.
The accused deny criminal misconduct.
New Zealand court officials said the papers were filed on Friday. An extradition hearing has been scheduled for 20 August.
The US has accused Megaupload's staff of racketeering, copyright infringement, money laundering and wire fraud among other charges.
Prosecutors allege that the website cost copyright holders more than $500m (£320m; 380 euros) in lost revenue.
However, Mr Dotcom has described the scale of the claim as "nonsense", tellingNew Zealand's Channel 3 Newsthat: "I'm no piracy king, I offered online storage and bandwidth to users and that's it."
Mr Dotcom - a German national - was released on bail 12 days ago despite protests by the US that he posed an extreme flight risk.
However, a judge ruled that an electronic monitoring bracelet that he has to wear and the fact that his assets had been seized had reduced that risk.
Pending the hearing to determine if he should be sent to stand trial in the US, Mr Dotcom has been forbidden to use the internet and has been ordered to remain within the grounds of his leased Auckland estate.
Related Internet Links
The BBC is not responsible for the content of external sites.