Can we protect technology from natural disasters?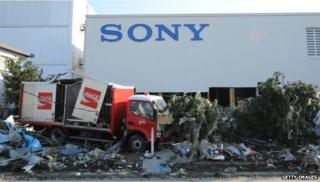 Last weekend marked the one-year anniversary of the Japanese earthquake and tsunami - a catastrophic event which claimed the lives of more than 15,000 people, and left 300,000 survivors homeless.
As the country - and the world - tried to come to terms with the human cost, the Japanese government also had to fend off the economic disaster, pumping trillions of yen into the economy to help businesses whose infrastructures and assets had been decimated.
Among them, some of the world's biggest technology companies.
Faced with disaster Sony, Texas Instruments, Sharp, Panasonic and others had to shut affected factories. Sony alone posted a £122m loss for the quarter following the disaster.
It was the beginning of a challenging year - just months later, the sector was rocked by another disaster: Thailand's floods - the worst in over 50 years to hit the manufacturing hub.
The impact of both events is still being felt by companies and consumers today due to component shortages and inflated prices.
Western Digital, the world's biggest producer of hard drives, saw 50% of its production processquite literally swept awayin the Thai disaster.
"We saw it coming," said Ian Keene, sales director at the company. "People in the factory tried to hold back the water. Unfortunately we weren't able to keep it back.
"The water crept under the front door, and just kept on coming.
"We had divers in the from the Thai navy, helping unscrew and unbolt a lot of equipment so we could get it out before the floods went away.
"We, and the industry, are still in a situation of shortage. Significant shortages still. Typically, quarterly demand is in 170-175 million units. In the Christmas quarter we got out 110 million."
As with any product high in demand, this has led to dramatic price increases for consumers.
"We made some pretty tough decisions to raise prices to enable us to recover the costs. We spent many millions of dollars replacing and refurbishing equipment," Mr Keene told the BBC.
Location, location
The obvious solution, onlookers would probably say, would be to simply move location and head to an area that was less susceptible to disaster - and away from the Earth's fault lines.
Not so simple, says Robert Scoble, arenowned technology bloggerwho followed the impacts of the flooding closely.
"I'm not sure what they can really do about it," he told the BBC. "The supply chains are only possible in certain places.
"Ten thousand people build our hard drives in one factory. That kind of labour pool and that kind of equipment is only available in a few places.
"You can't just turn around and build one of these in a day. Long-term they'll probably consider a little more-decentralised approach - maybe build three smaller factories in different cities so if one gets destroyed that only takes out one third of their production."
Western Digital tells BBC that as a result of the Thai floods it "accelerated" plans to duplicate certain facilities across several factories. Prior to the flood, the company only had "clean rooms" - used for highly-sensitive manufacture - in Thailand.
Companies have also taken measures to protect their supply chains from similar events, taking cues from the car industry which staged a quick recovery.
Manufacturers joined forces to share components and other resources, ensuring shortages were not terminal. Yet even seemingly small hiccups in the chain proved troublesome - low supplies of a special kind of paint made only in Japan held up production lines until stocks could be restored.
A spokeswoman for the UK's Society of Motor Manufacturers and Traders says after a month production was almost operating at normal levels again.
"It is, of course, impossible to fully prepare for all natural disasters but the events in Japan highlighted the importance of having a streamlined and effective supply chain in place, so that gaps in supply can be identified quickly and efficiently," she adds.
Pinch point
Away from supply shortages, some experts warn that it could be the internet that suffers the brunt of the next major natural disaster.
"No matter how you think about it, the internet fundamentally runs on cables that are chucked into the ground or under the sea," explains Matthew Finnie, chief technology officer at Interoute, a London-based telecommunications company responsible for handling large portions of the world's high-speed networks.
"You globally have a variety of pinch points whereby natural disasters can have a serious effect."
One of those pinch points lies off the coast of Japan - where several links between Asia and the west coast of America run across the sea bed.
"If the earthquake that caused the tsunami was a further 200km down south, it would have been horrific for global telecommunications," says Jonathan Wright, vice-president service provider at Interoute.
"Just south of Tokyo, a lot of cables come in. A rupture in the sea floor would have been enough to sever all of them.
"Practically every pan-Pacific sea cable would have been knocked out - which would have meant sending traffic from Japan via India and into Europe and America that way."
Like a busy subway train network, alternative routes for online "journeys" can be found if certain lines or hubs are hit by problems.
But just as rail travel can be slowed down if the remaining routes become overcrowded, so too would internet traffic become sluggish if more data needed to be sent along each cable.
The key to the internet's reliability is in a diverse network, he says, offering as many rerouting options as possible.
'Zero co-ordination'
This means placing cables through some of the most politically volatile places in the world, such as Syria and Iraq.
There are signs of co-operation in perhaps unexpected areas. Last week, optical networking specialist Infinera announced it is to partner with Cable and Wireless to provide a10,000km long cable from Frankfurt to Oman, passing through Iran.
It will, the company says, provide a fast land-based alternative should the pinch points of underwater cable networks face major issues.
But Geoff Bennett, the company's director of solutions and technology, says by far the best prevention method is to simply be ready for the worst.
"There is no way, or at least none that I'm aware of, to protect a cable against any natural disaster," he says.
"It just would be physically impossible to protect against everything.
"If you're talking about an earthquake, or an ocean shelf displacement, then no cable will survive that."
With many of the world's technological hubs lying close to the Earth's fault lines, the tactic adopted by most technology firms will be to simply make sure they can survive when the inevitable happens.
In San Francisco, home to Silicon Valley and some of the most influential minds in the tech industry, regular tremors mean residents never forget the threat of disaster is near.
Since Japan, there's been debate about whether there should be a boost in spending on early warning systems for the American west coast. Two to three minutes can make all the difference - and while the Japanese tsunami was devastating, experts believe it was forward planning that prevented the death toll from being much higher.