Playing pop music via paper posters with conductive ink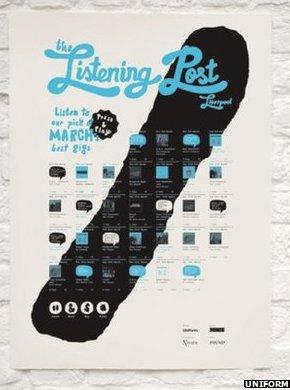 Paper posters that play music via printed circuits made with conductive ink have been unveiled.
The prototype "Listening Post" poster is a guide to bands performing locally.
The interactive poster plays a short clip of a band's music when a thumbnail image is pressed. Tickets can also be booked via the poster.
The low cost of printing mean anything that uses paper or card could soon be much more interactive, said the poster's inventors.
It is one of several "paper apps" that have been developed by a consortium of British scientists, musicians and researchers being demonstrated at the South By Southwest Show in Austin, Texas.
Peter Thomas, head of the Liverpool-based Uniform agency that helped co-ordinate the poster's creation, said it was designed to explore novel methods of interaction.
He said it could be a way to get round the modern problem of "infobesity".
"People are saturated with information all the time, especially when it comes to music, this is a way to cut through all of that," he said.
"We're trying to recapture some of the tactile experience you got with vinyl records.
"There's a really different reaction from users to physical media as opposed to digital media, especially when it comes to music," said Mr Thomas.
He added that interactive paper and packaging could mean a lot of media returned to the physical world and was no longer only accessible online.
The group has also developed postcards that contain a sample of music that can be played via a paper player.
The poster and postcards are the result of a research partnership with Cambridge firm Novalia (that has developed methods to print conductive ink), art group Found, musician King Creosote and Dr Jon Rogers from the University of Dundee.
Mr Thomas said development of large-scale production techniques for printing circuits on packages, posters and other paper media was speeding up.
Work was also going ahead on shrinking circuit boards so they too can be incorporated in the printing process. The posters marry printed conductive ink trails with a small circuit board holding a speaker and a small amount of memory.
The low cost of paper and the fact that conductive inks can be applied via ordinary printing presses would quickly drive adoption.
"It will be a couple of years before we see smart paper as a really meaningful proposition but it's definitely going to happen," he said. "Music is a focus for us but it's just the tip of the iceberg."
Future versions could incorporate web connections so that packages, posters and magazines might be able to be updated.
One use could be to produce a real world "like" sticker that can be placed on any object and log when it is pressed.
Related Internet Links
The BBC is not responsible for the content of external sites.