Computer Aid demands greater e-waste accountability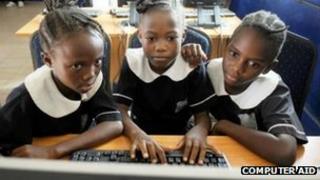 Major technology manufacturers must be held more accountable for e-waste costs, a leading UK charity has said.
Computer Aid, which distributes donated tech to communities across Africa, said laws should be put in place to ensure that firms "deal with the consequences" of unwanted equipment.
The call comes as the organisation celebrated sending its 200,000th refurbished PC to the developing world.
Many technology companies run e-waste schemes to help combat the problem.
However, Computer Aid's newly appointed chief executive Tom Davis said more could be done to ensure that technology companies were "good corporate citizens".
"I think that the richest companies in the world, who profit tremendously from IT, have an ultimate responsibility to deal with the consequences of all the things they've brought to us," he said.
Anja Ffrench, the charity's director of communications, told the BBC that dangers of e-waste, which can be harmful when not carefully disposed of, have led countries such as Nepal to reject charitable donations of technology because of health and cost concerns.
"If all countries were to do that they would cut themselves off from receiving technology from other countries, which would be a great shame.
"The organisations that Computer Aid provides to are really disadvantaged organisations who would not be able to afford new equipment. This is their only way to access ICT - through refurbished machines."
Computers distributed by the charity are donated by companies and individuals in the the UK. Sainsbury's, the largest single donor, has given 8,000 unwanted PCs to the scheme since 2009.
Corporate responsibility
Dealing with e-waste is an enormous, and growing, problem. In Europe, more than 100 million smartphones are discarded every year.
The US Environmental Protection Agency estimates that just 25% of electronic material suitable for recycling is effectively dealt with.
Hewlett Packard, one of the world's biggest manufacturers, told the BBC that it prohibited any of its e-waste from being exported from developed countries and into the developing world.
The company recently opened the East African Computer Recycling in Mombasa, Kenya's second largest city.
Meanwhile Apple, which last week announced its third iPad device since 2010,offers a recycling schemeto encourage users of "old" Apple devices to exchange them, potentially in return for cash. The company then recycles the hardware.
However, Gladys Muhunyo, Computer Aid's director of Africa programmes, said more still needed to be done to educate the public about the issue at the time they were buying a new device.
"The people who produce the gadgets need to make gadgets that are durable, that you do not have to keep changing," she said.
"Consumers should not just go for new technology without knowing if the old gadget has been exhausted of use, and where it can be taken."