Sky announces details of NowTV internet TV service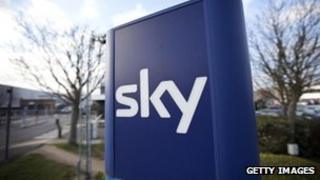 Sky has revealed more details of its new internet TV service, which is to be called NowTV.
Customers, who do not have to be Sky subscribers, can access content on a pay-as-you-go or contract basis.
The service's initial offering will be limited to films, with sport and entertainment programmes added in due course, the company said.
NowTV will face competition from the US-based firm Netflix and Amazon-owned Lovefilm.
According toits website, NowTV will be launched this summer.
Sky's chief executive Jeremy Darroch shared details of the service, which was first announced in January, at the Guardian newspaper's Changing Media Summit in London.
"As the quality of the TV experience over broadband has improved, people have become more willing to consume content in different ways," he told attendees.
"That presents a great opportunity to distribute our programmes which wasn't there even a year or two ago.
"With the long-awaited explosion of connected devices now upon us, this opportunity is only going to grow. And it's something we believe is highly complementary to our existing service."
Extra revenue
The launch is an attempt by the company to attract revenue from the 13 million UK homes that do not subscribe to some form of Sky television service.
The company's existing internet-powered service, Sky Anytime will continued to be offered to TV subscribers.
One media analyst told the BBC that Sky was seeking to distance this new service from the existing "premium" Sky product.
"To date, Sky's always been concerned about keeping the value of its core service by not producing products that could potentially undermine that," Richard Broughton, senior principal analyst for IHS Screen Digest said.
"The Sky brand is seen as the premium option. If they're introducing a new service, they don't want to confuse consumers."
He said NowTV will pose a huge challenge to internet TV competitors Netflix and Lovefilm given its existing relationship with content producers.
"Netflix and Lovefilm have both been buying movie rights - but they don't have the catalogue that Sky has.
"If Sky come out with a similar price range, it will be a major concern to Netflix and Lovefilm. One of they advantages [Netflix and Lovefilm] had in that past is that they've been substantially cheaper than subscription TV services."